Product Description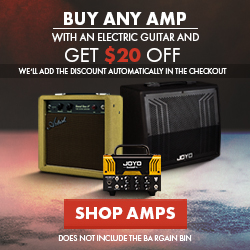 Artist AG78MS Headless Multiscale Fanned Fret 8 string Electric Guitar
Pre-order Note: The image on this guitar is our interpretation of the guitar and is not the final product. Once the final images of the finished guitar are available, we will send them via email to the customers who have pre-ordered. They then have the option to continue with the pre-order or to cancel for a refund instead. This is also the same for the specs.
Since this is a new incoming model and will be manufactured for the first time, the pre-order date may be subject to change. If it does, our customers who pre-order have the option of cancelling their pre-order and a full refund will be processed.
The AG78MS is the newest electric guitar to come into the Artist Signature Model Electric Guitars. It is the first of its kind in our line up.
The guitar features a 24 fret multiscale Eco Rosewood Fretboard over a Maple Neck. The body has a matte natural finish over the stylish design of this guitar. The pickups for the guitar are near the same as the Indominus 8 but with better winding.
The Tech Features
Brand: Artist
Model: AG78MS
Neck: Maple Neck
Fingerboard Radius: 13.78" (350mm)
Fretboard: Blackwood
Scale Lengths:
High E - 26 inches
Low F# - 28 inches
Pickups: 2 x Soapbar Pickups
NOTE: More specs will be added as they are finalized.
(16408)
Headless!..

waiting for this guitar for 12/13 months, finally got it,.. bought the cust. returned ,yes it need a mod/repair, but once it finish, should be a great guitar, specially it price! the colour is a little dark than is show on picture.. look good.. P/U's sound Good.. hope AG's fix the problems in the coming future , Thanks AG's..





Artist Guitars Response
We really appreciate it for taking the time to leave a review and glad to know that you are satisfied with our products and services.
Good.....BUT

Also looked forward to this for over a year..... and whilst there are many cons with this $349 guitar, unfortunately I agree with one of the other reviewers regarding the bridge, which for me (unless I figure it out) is a deal-breaker which renders the guitar pretty useless or at best a cause of major frustration when changing strings or even tuning! The people at Artist were helpful and I really appreciate their assistance, yet either the design is ultimately flawed, or I just copped what is sometimes referred to as a 'lemon'. Happy to change/delete this review Artist if I'm doing something wrong and we can resolve this since I really like everything else about the guitar. I just want to play the guitar - not learn more about fixing guitars. I'll be in contact soon Artist!





Artist Guitars Response
Sorry for all the trouble you've experienced with the guitar. We are glad that we are able to resolve all the issues over the phone. We hope that you enjoy your guitar. If you have any questions or need any assistance, please feel free to reach out. Cheers!
You get what you pay for

After a year of delays on this guitar it had finally arrived on my door! it was well packaged with NO damage or loose parts, with that being said, straight out of the box the strings were all a step sharp, and the tuners had been tightened so much, that I struggled to detune the strings, once i did, 2 strings broke immediately. Pros: Clean wiring, great input jack, quality toggle switch, smooth knobs, nice sounding pickups, great balance and finish on the body, comfortable neck, Cons: One of the worst bridges I have ever used (If the tuners had the ability to be used with an allan key this could be a much better experience) very cheap feeling frets, very rough fret ends What you will want to fix: a set up is necessary, shim the neck, oil the fret board (a few times) a new nut cut correctly, round the fret ends issues: un set frets, I have 5 near dead frets, one of the nuts (head stock) has been stripped keeping the locking nut loose, locking nut seems to kink the strings (with very little pressure) In short there are some surprising highs, with the work this can be a great guitar, but the locking nut is by far the biggest downside of the guitar, but you get what you pay for





Artist Guitars Response
I am so sorry to hear this. If there is anything we can help you with, please feel free to reach out to us.
So fun!

I just received the headless 8 last week and I'm finding it such addictive fun! After a bit of a setup and tweak, im getting used to the extra strings and am finding it so much fun to explore and play around with. Ive been using it for mellow/atmospheric/ambient looping noodling more than djenty metal, and am happy with the clean tone of this guitar. Not the most amazing build quality in the world, and takes a bit of tweaking to get it set up well. Tuners needed lube, new strings, action, truss adjust, filed a sharp spot on the nut, and the frets are a little sharp. I enjoy the setting up and 'getting under the hood though, and really, nothing to complain about at this price point at all. Looks amazing, opens up a new level of creativity, and plays good.





Artist Guitars Response
We are glad to hear that you are happy with our product. Thank you for sharing your experience.
LOOKS GREAT!

Not so much a review but I'm very keen on this guitar since getting the Indominous8 a few years back. Looking forward to hearing what the new pickups sound like. The Indominous8 stock pickups could be a bit hotter. Only thing troubling about this new design is the Zero Fret. Any chance you guys could get rid of it? I've had a couple of guitars in the past with Zero Frets and they're nothing but trouble when the strings eat into them after months of vibrations against them. Throws the whole entire setup out of whack. Please consider this before making any more.





Artist Guitars Response
Thank you so much for taking the time to share this feedback. We really appreciate the support!