How to Choose the Correct Size Violin for your Child
Choosing the right violin can be difficult when faced with so many size options. For most parents, their child will just be starting out and have had very little, if any, playing experience. As a parent you don't want to fork out hundreds or thousands of dollars on an instrument if you're not sure they will see it through their first term of lessons.
If this is the case for you, which violin is the best one to buy?

Four important features you'll need in a beginner violin are:
1. A reasonable quality built instrument with solid wood, carved top.
2. Decent tuning pegs that stay in tune.
3. Four fine tuners to tune your violin properly.
4. It should include the accessories you need to get started.
Our violin packs are perfect for this as they include all of these features and come with everything you need.
If your child is already quite a capable player then you do need to look at a higher grade instrument, unfortunately, a good Violin will cost upwards of $1000. We do sometimes see some parents that might spend $200-300 to get a higher grade but sadly these violins are often not much better than our basic package. If your child has shown a talent we strongly recommend you encourage them with a quality violin bought from a speciality violin store.
Here is a simple size guide to choosing the correct size:
1. Have the player stretch out his or her arm to the side of their body, ensuring that there is no bend in the arm.
2. Measure the total distance from the neck to the centre of the palm.
3. Check the size guide below. Match the size you need and visit our Violin pack page.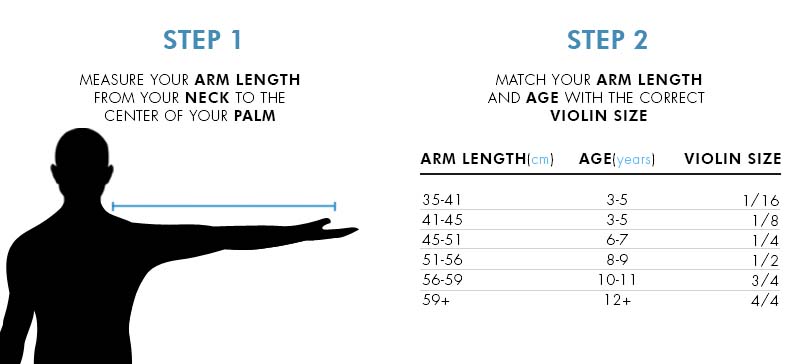 Perfect for Beginners

8 March 2015
I love this package. We purchased this violin package for our daughter, we really didn't want to spend a heap of money on something she may give up in a few months. It comes with everything needed to get them going. I highly recommend it and Artist Guitars are extremely helpful with us parents who have no idea. It's a great beginners Violin and durable, even the bow is great.