Product Description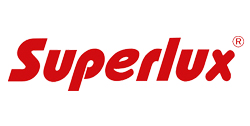 Superlux R102 Aluminum Ribbon Microphone
The R102 is an active aluminium ribbon microphone designed for the recording studio. The features the high sensitivity of a condenser microphone yet exhibits the smoother frequency response and excellent transient response of a ribbon microphone. The speed response of a ribbon mic is optimal among all types of microphones.
The R102 active aluminium ribbon microphone consists of two parts: an electro-magnetic transducer and an impedance converting circuit. The electromagnetic transducer applies a unique magnetic circuit field with a strong Nd magnet. The aluminium alloy ribbon, with a thickness of only 2.5 microns, is suspended between 2 poles and vibrates in synchrony with the incoming acoustical energy (soundwaves). Due to the extremely low mass of the ribbon, the transducer of this microphone boasts a premium transient response in converting acoustic energy into electronic signals. Whether at low/high frequencies or low/high sound pressure levels, the R102 delivers a precise reproduction of the original sound.
Please note: This item requires 48v phantom power to function.
Features
Wide and Extended Frequency Response
High sensitivity, wide dynamic range, low distortion and decreased noise
Stable performance regardless of ambient temperature or humidity
Figure 8 polar pattern with identical sensitivity at the front and back
Easy field replaceable modular ribbon assembly
The Tech Features
Brand: Superlux
Model: R102
Type: Aluminum Ribbon
Element: Active Pressure gradient electro-magnetic transducer
Diaphram: Aluminum Ribbon of 2.5 micron
Magnet: Strong Nd
Polar Pattern: Figure 8
Frequency Response: 20 - 15,000 Hz
Sensitivity: -40dBV/Pa (10 mV/Pa) at 1,000 Hz
Output Impedance: 250 20% at 1,000 Hz
Rated Load Impedance: >1000
Max. SPL: >140dB
Equivalent Noise Level: <20dB
Power Supply: 48v phantom power only
Current Drain: 4mA
Connector: 3-pin XLR-Male type
Dimension: 5.7cm x 3.7cm x 19.5cm
Included Accessories: Plastic Hard Case, Microphone Cradle, XLR Cable
Net Weight: 500g
(14665)
Superlux.Deluxe Smoothness on a budget!

Great silky ribbon mic for a fraction of the cost of most others.Phantom powered means no low gain issues as is common in passive ribbons.A true smooth lil ripper!
Superlux Ribbon Mic

Super happy with this mic - I recorded acoustic guitar & vocal together, then recorded a tele through a Fender Hot Rod DeLuxe - we used a Shure 57 up close + the Ribbon mic a few feet from the amp. Last test recording was in vocals - beautiful result - crystal clear clarity, warm tone, super clean. I highly recommend this mic It's sturdy & the price is under $200