Product Description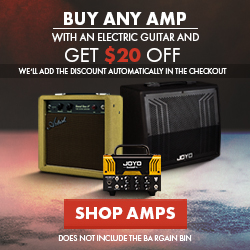 About this Artist TCDIY Do it Yourself Guitar Kit
Get behind the invention of a famous guitar and build your very OWN version with this ready-to-go kit. The bodies and necks are unfinished and don't have any basecoat which allows you to spray the body whatever paint type and colour you choose. You might also like to reshape the headstock but always remember that reshaping requires effort time and consideration.
The kit includes a ready-to-spray unbound bolt-on-neck, an unfinished body, 2 pickups loaded on to a black scratchplate, two pots, chrome coloured knobs, chrome-plated bridge, strings.
These kits are full size.
The Tech Features
Brand: Artist
Model: TCDIY
Features:
1x Solid Roasted Poplar Body
1x Maple Neck with an Eco-Rosewood fretboard
Scale Length: 25.5 inches
Fretboard: 12" (305mm) Radius ; Dot Inlays
Circuitry: 1 Volume, 1 Tone, 3 Way Toggle Switcha
Nut Width: 42mm ABS Nut
Strings: ELST1046
Optional Hard Cases: REC300RC, REC350BK, REC350FTB, EC500
Optional Gig Bags: HGBAGST, BAGST
(16407)
Insane fun!

I bought this on a whim for a bit of fun. Custom paint blah blah. Too impatient so threw together as soon as I opened the box. Playing very shortly after and what a laugh! It looks and sounds great! I have other Artist guitars and like 'em all.





Artist Guitars Response
Thanks for your review! Please do not hesitate to reach out if you have any questions at all!
My first build - A great experience

This was my first guitar build - and with the help of countless you-tube videos I'm really happy with the result. Won't be my last! All the crucially important steps lined up and worked perfectly: fitting the neck to the body, truss rod adjustment, ,bridge saddles. I've now got a guitar with better sustain and tuning stability than my shop-bought Gretch! The mostly flat TC style body makes it a great choice for your first attempt at a guitar finish.
TCDIY

This is my third kit from Artist and the value for money & efficiency of despatch & packaging have been excellent. I haven't completely assembled this TCDIY kit yet. The frets are nice & even with smooth edges & the neck needed only a minor tweak to the truss rod. The raw wood grain looks great with only a fine sand before clear finishing ? or painting ? All in all, an excellent buy !
Great value TC DIY Guitar by Sam

This is the second Artist guitar kit (Telecaster style) I have purchased ( & the cheapest). The kit came well packaged-nothing damaged. I haven't assembled it yet but the neck/frets doesn't need any fettling-just a tiny truss rod adjustment. The raw body,which has a nice grain, will need only some fine sanding before painting or clear finishing. If the electronics are as good as my previous purchase ( a Les Paul style) , I'll be a happy man. When it's assembled & running I'll see if it needs any upgrade
TCDIY KIT

Very impressed.As a pre-order,Artist gave me weekly updates on delivery date.Kit looks of high quality.My only problem is what colour to finish it in.Would recommend this to anyone. Thanks Artist,keep up the great work and service.