Product Description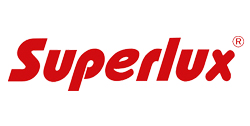 About these Superlux HD681 EVO Studio Monitoring Headphones
The upgrade to the HD681, The HD681 EVO features an exceptionally deep low frequency. As for the sound image presented by these headphones, the HD681 EVO gives you the feeling of actually being on stage with the artists. It features a new shape and a continuation of the HD681's sound but with better treble balance.
These headphones deliver excellent balance and clarity. The ergonomically-designed vinyl earpieces combined with the lightweight and self-adjusting headband of these headphones make them very comfortable. Whether you're monitoring, tracking, mixing, or just listening to an MP3 or another audio source, you can expect comfort and sonic accuracy from your HD681 EVO series headphones.
Deep low frequency "On stage" sound, perfect for enjoying the beauty of classical music & other large ensembles. They present a bright and clear sound. When playing classical music, this will surprise you with its breadth, clarity and dynamic presence.
The Tech Features
Brand: Superlux
Model:- HD681EVO
Design/Construction: Over Ear
System: Semi-Open
Type: Dynamic
Impedance: 32
Frequency Range: 10Hz - 30KhZ
SNR: 98dB
Included Accessories: 1x 1m cable, 1x 3m cable, 6,3 mm Stereo mini-jack adapter, carry pouch and one extra pair of velour earpads
(14181)
Excellent sound quality for price

Excellent sound quality headphones for such a small price. Pretty balanced with a bit of extra bass. Also comes with a bunch of useful accessories such as 2 different length audio cables and spare cushioning. They are a bit plastic-y but for the price, not a big deal. Only real con in my opinion is the connection for the audio lead which is a male connector hanging down. This really should be a female connector built into the headphone. I can see this being a failure point if you are not careful.





Artist Guitars Response
Thank you so much for sharing this with us. We really appreciate the support!
Carlover

Great service, prompt delivery and very happy with the headphones.





Artist Guitars Response
Thank you very much for your feedback. We really appreciate it. Cheers!
Wow! Amazing for the price.

I bought these headphones only a few hours ago and I have never been this rushed to write a review. These headphones are a great buy. At this price I was not expecting such great sound quality. I have been playing Psychedelic Symphony by The Church and hearing detail I don't pick up in my much more expensive headphones. I will be buying another set when they are back in stock!





Artist Guitars Response
Thank you for the wonderful review and we're stoked to hear that you love your new headphones. Cheers!
HD681 headphones

All in all very comfortable Great sound Great value for the price





Artist Guitars Response
Thank you for leaving a review about the product. We really appreciate it. Please do not hesitate to contact us or shoot us an email at sales@artistguitars.com.au if you have any concerns or questions.
Amazing

The sound is very impressive and quality is fantastic Highly recommended