D'Addario EXL117 Electric Guitar Strings Med/Hvy Bottom 11-56
$16.00
RRP $20.99
SAVE $4.99 (24%)
Product Description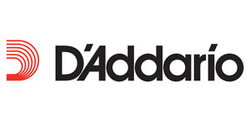 D'Addario EXL117 Electric Guitar Strings Med/Hvy Bottom 11-56
D'Addario's XL Nickel Electric Guitar strings offer a distinct, bright tone, with excellent intonation and a "fret-friendly" nickel round wound feel that make them the top choice of guitar players of all genres around the world. The nickel-plated wrap wire is ideal for magnetic pickups, relaying the highest sound quality.
All D'Addario strings are precisely wound around a hexagonally shaped high-carbon-steel core wire by computer-controlled machines guaranteeing clear intonation, rock-solid fundamentals, and incomparable consistency in every string. The tight core tension produced through this rigorous quality-controlled process results in a harmonically rich, longer-lasting string.
The Tech Features
Model: EXL117
Gauge: EXL117 Med/Heavy Bottom 11-56
(11128)
Sounds Great On Artist 7 String!

Bought these to replace 6 strings on my Artist 7 string guitar and then got a 70 gauge to put on the top string and it all sounds amazing. They sound very heavy in any tunning and are great quality. Fast shipping as always from the guys.
EXL 1 117 guitar strings

well i put these on my new Artist SG guitar and they kick arse ...ive always used D"addario strings for about the last 30 years very good sound and the price is brillant ..how do you guys do it . i wish i had started using your service years ago
D'Addario EXL 117 guitar strings

These are great quality strings, especially for drop D tuning. Unlike other sets, the unwound G string is the perfect gauge - not too heavy not too light, great strings and Artist Guitars post them out real quick too. AAA+++