Product Description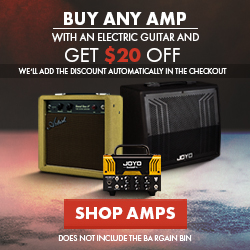 Artist STH Electric Guitar with Humbucker Pickup
If you're someone who wants to play a bit of metal like Pantera, Van Halen or Metallica, but then wants to play rock like Arctic Monkeys or Cold Play, and then wants also to do a bit of Jimi Hendrix... basically, you're looking for a guitar that can do a bit of everything, then this electric guitar is the right choice for you.
This guitar gives you a clean sound as well as much distortion as you can handle from your amp or effect pedals without any extra unwanted noise and squeals.
The STH electric guitar is a great way to be introduced into the world of rock, funk and blues as it is a beginner's copy of a classic guitar that has done countless albums, tours and made many a guitar icon. The contoured body provides great comfort in playing which has made this type of guitar a favourite with many players.
It has a tremolo bridge that is not floating or lock tuning like a Floyd Rose, but rather it is designed for a small amount of vibrato so locking nuts are not necessary. Great Quality and Wilkinson Pickups make this guitar a step above the rest. This is a real musical instrument not a toy, designed by our local luthiers and players. We also sell these as a package with an amplifier if you need.
This is a full-size guitar perfect for Adults, recommended for children over the age of 12 (or younger if your child is strong and taller than 1.2m)
It includes all accessories you need to get started:
STH Electric Guitar
Electronic Guitar Tuner
Strap
Bag
Lead
Picks
Receive free exclusive access to video lessons when you buy a guitar pack:
We are proud to offer you a series of online lessons designed specifically for beginning guitar students. This series of lessons was designed inhouse, to give you the best start to your musical career. This is what this lesson pack is all about - the stuff that nobody really tells you at the start of your guitar playing journey. Issues like holding the guitar, using a plectrum and some simple exercises to start you off.
So whether you're 7 or 70, take some time to check out the lesson pack and most importantly - be patient and have fun! Note that you would need to be logged into your Artist Guitar's account and you would have to subscribe to our Newsletter first to receive the link to the lesson program. You can UNSUBSCRIBE as soon as you get the link.
Some of this guitar's great features

It has an Eco-rosewood fingerboard and maple neck, a 2-way truss rod (which means you can adjust the neck up or down)

Wilkinson pickups (ceramic) mean you will get a much better sound than a "standard" pickup. The STH comes with a Humbucker and 2 single-coil pickups. This gives you more versatility in the styles you can play. Humbucker pickups allow you to produce better distorted tones.

It has a classic bridge (so you can do classic style tremolo and string bends) & die-cast machine heads that will help you stay in tune longer and make your tuning easier.

We include a range of support materials from how to tune, how to read tab, basic chord shapes and more.
The Tech Features
Model: STH
Brand: Artist
Fingerboard Radius: 12" (305mm)
Construction: Solid Body
Wood:
Body: Poplar with Basswood Veneer
Neck: Maple
Fretboard: Eco-Rosewood
Nut:
Material: ABS
Width: 42mm (1 5⁄8")
Bridge: Classic Tremolo
Neck Profile:
Scale Length: 25 1⁄2" (648mm)
Radius: 12" (305mm)
Shape: D
Number of Frets: 22
Fret Inlay: Dots
Pickups:
Neck: Wilkinson Single Coil
Middle: Wilkinson Single Coil
Bridge: Wilkinson Humbucker
Controls: Volume, 2x Tone and 5 way switch for 5 different pickup combinations
Machine Heads: Die-cast Chrome
Included Accessories: Bag, Strap, Clip-on Electronic Tuner, Guitar Lead, Tremolo Bar, Neck adjustment and Tremolo adjustment Allen Keys.
Optional Cases:
REC300RC
REC350FTB
REC350BK
EFC701
EC500
APC300
Weight: 3-3.5kg approx, 7-8lb
(12538)
WARNING - KEEP BUTTON BATTERIES OUT OF REACH OF CHILDREN
Swallowing may lead to serious or fatal injury in as little as 2 hours, due to chemical burns and potential perforation of the esophagus.
Never allow children to replace button batteries of any device.
If you suspect your child has swallowed or inserted a button battery immediately call the 24-hour Poisons Information Centre on 1311 26 (Australia) or 0800 764 766 (New Zealand) for fast, expert advice.
Regularly examine devices and make sure the battery compartment is correctly secured, e.g. that the screw or other mechanical fastener is tightened. Do not use if compartment is not secure.
Dispose of used button batteries immediately and safely out of the reach of children. A battery can still be dangerous even when it can no longer operate the device.
Tell others about the risk associated with button batteries and how to keep their children safe.
my first electric

Was looking for a inexpensive first electric guitar, found a video for the STH online extolling its quality and playability, so I bought one.well I love it, straight out of the box it just felt right, the quality is unbelievable for a guitar this price, nice one Artist.





Artist Guitars Response
Hi! Thank you so much for the great review! We hope that you're having a great time with your new guitar. Cheers!
Nice Guitar

I just bought an Artist STH, nicely finished guitar, feels good and sound pretty good too. The Bridge Humbucker has gook kick the single coil pickups are nice warm Strat sound. Good value for money. I live in WA, delivery was fast, the Artist Crew and Customer Service is Outstanding. Five Stars from me!
Adelaide S.A.

Very Good Quality Guitar, I think the neck feels much nicer to play, and it is easier to play bar chords, The rosewood and over all finish of the neck on this one is superb, I got mine with a Joyo DC15 amp, Got a very good deal, Great service, Thanks.