Product Description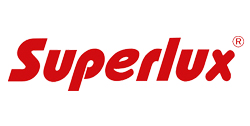 Superlux PROH7F MKII Vintage-Style Supercardioid Dynamic Microphone
The Superlux PROH7F MKII is a dynamic super-cardioid microphone with great performance and a classic appearance. Those customers who fondly remember the past, particularly the 50's and 60's golden age of jazz music, will find this microphone especially appealing. Though the PROH7F MKII looks like a vintage instrument, its technical performance is substantially modernized with very advanced specifications adapted to a variety of vocal miking uses.
Classic and elegant in appearance with a contemporary performance
Shock-mounted cartridge for minimized mechanical and vibration noise
Self-tensioning swivel mount permits tilting 45 toward as well as up to 80 away from an audio source for greater flexibility
External on/off switch
Polished chrome finish for long-term operation and appearance
Applicable for lead vocals, backup vocals and spoken word
Built-in microphone stand connection point
5/8in to 3/8in microphone stand adpter included (If your microphone doesn't attach to the stand, remove the adapter)
The Tech Features
Brand: Superlux
Model: PROH7F
Impedance: 300 ohm
Sensitivity: -55 dBV
Frequency Response: 50Hz - 15kHz
Maximum SPL (Sound Pressure Level): 134 dB
Product Weight: 0.52 kg
ROHS Compliant: Yes
(13746)
Excellent Equipment

I wanted a classic microphone and saw the PROH7F advirtised at Artist Guitars. I was very happy with the product when I received it two days after ordering. It looks great, feels great and the weight surely indicates that you have a quality piece of equipment in your hand, and the case the microphone came in was a bonus. Thank you Artist Guitars I am very pleased that I dealt with you.
Superlux mic

Great looking mic. Superb finish and very crisp, clear pickup without sounding "tinny". A great mic for the price. I ordered on Sunday and it arrived lunchtime Tuesday via normal, free delivery.
Get The Look And Sound For A Fraction Of The Cost

While I'm not a big 50's or rockabilly player, there's just something appealing with vintage looking mic's. Quite frankly, I didn't expect too much out of this as I've had cheaper mic's before and the feedback and carry on you get with them. You have to EQ them so low it defeats the purpose. Not with this. Comes with it's own bag, Is a nice weighty microphone so is more suited to an upright mic stand than a boom stand. It's a fairly sensitive mic for being dynamic, clear sounding and nice highs as well. It's not for everyone, but if you're looking for something a little different, you would be hard pressed to find something of this quality at this price.
Fantastic value for money

I used this mic for NYE show , sounded and looked fantastic, had the girls screaming for more...
surprise after surprise

Buying this purely for looks i really didn't expect much. How surprised i was though! From the moment i broke open the box i was surprised, i wasn't expecting it to have a nice little carry bag. The sound from this is great, so crisp & clean. would highly reccomend