Product Description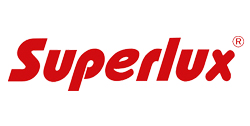 About this Superlux PRO248 Vocal Dynamic Microphone
The PRO248 microphone is a professional dynamic supercardioid microphone incorporating reinforced grille, neodymium magnets and an aluminum voice coil on a double membrane diaphragm.
Its output transformer gives the PRO248 a wide frequency response, high sensitivity and better directivity, delivering a natural sound with more detail.
The PRO248 is suitable for professional live stage performance
and studio recording.
The Tech Features
Brand: Superlux
Model: PRO248
Features:
Typical vocal frequency response
Powerful on the low frequency band, more texture detail on the high frequency band
High gain before feedback
Type: Dynamic
Polar Pattern: Supercardioid
Frequency Response: 50-16,000 Hz
Sensitivity: -54 dBV/Pa (2 mV)
Output Impedance: 300 Ohms
Min. Load Impedance: 300 Ohms
Max. SPL: 150 dB SPL
Finish: Titanium blue
Connector: XLR3M
Dimensions: 52 165 mm
Net Weight: 27g
Accessories: Furnished HM38S clip with screw knob, YA2 threaded adapter
Packaging: A1 protective carrying case
(13738)
Pro 248 Dynamic Vocal Mic

Artist, you've done it again! Good sturdy mic with clear resonance and penetration. Cant wait test it in a live venue!





Artist Guitars Response
Thank you so much for the feedback. We appreciate it a lot.
Great Buy

I'm impressed by the sound reproduction these mics create. I'm a vocalist and musician and I have used this mic for vocal and acoustic guitar work and I'm happy with the results it produces for my recording and jamming projects. I've decided to purchase more mics for my projects in the future because of it's sweet characteristics. Another excellent product from an outstanding company. Thank you Artist Guitar for supplying quality equipment.





Artist Guitars Response
We appreciate the kind words and the review. It is pleasing to hear that the mics worked for what you need. Should you have any questions or concerns, please feel free to contact us.
pro248 vocal mic

great mic for the price
Superlux Pro248 Mic

Superb quality for the price
A truly professional quality mic

A professional muso, I bought this to replace the Shure vocal mic I happily used for years The Superlix PRO248 certainly doesn't disappoint and sounds even better than the Shure - balanced responsiveness and works well for clear vocal diction. As always Artist delivered free to Newcastle promptly - less than 48 business hours. I always buy knowing that Artist back their products and takes care with descriptions - readily resolves any queries to ensure customer's expectations are more than met.