Product Description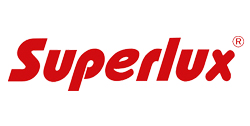 About this Superlux D112 Dynamic Harmonica Microphone
The D112 is a new dynamic Hi-impedance blues harmonica microphone with unique curves to fit the hands when playing. It has a level knob for the player to adjust the sound to a suitable level.
A permanently attached cable with 1/4" output connector can directly plug into the guitar amplifier or other high impedance devices.
Need to run into a mic channel? Check out the NuX PDI1G Guitar Direct DI Box.
The Tech Features
Brand: Superlux
Model: D112
Features:
Hi-impedance can directly plug into the guitar amplifier
Warm and full sound
Body curves fit the hands when playing
6.3 mm TS output connector
Permanent 6-meter attached shielded cable
Volume control knob for adjusting sound level, centre detent included.
Specifications:
Type: Dynamic
Polar Pattern: Omnidirectional
Frequency Response: 100-6,000 Hz
Sensitivity: -50 dBV/Pa (3.2 mV)
Output Impedance: 10k Ohms
Min. Load Impedance: 100k Ohms
Max. SPL: 140 dB SPL
Finish: Titanium blue
Connector: 6.3 mm (1/4"), 6-meter cable
Dimensions: 63 80 mm
Net Weight: 650 g
(13758)
Better quality than expected at this price..

The first harmonica mic that Ive had in this price range that fits naturally and comfortably in the hands and has a rich tone. Volume control is out of the way but easy to adjust even when playing. A nice high quality unit at a budget price
good one

sounds great. well made. solid. good long cord.
Great Product

Great value for money. My first harp mic and its a delight
Superlux D112 Harp mic

Delivered very quickly in two days. The mic is well made a nd nice in the hand but I have to turn the amp way up compared to my other green bullet mic to get a decent volume and the volume knob on the mic doesn't work till its turned well past half way.
Can't Beat It!

Value for money this microphone is unbeatable for any blues harp player. Don't let the fact that it's way cheaper than the classic 'Green Bullet' put you off. It can growl with the best and also produce sweet, clean tones if that's what you want. Finger grooves in the housing make it easy to cup and the volume knob on the body gives instant control. Mixing and matching with different amps and settings provides the opportunity to find a variety of tones. Worth every cent (saved)!