Product Description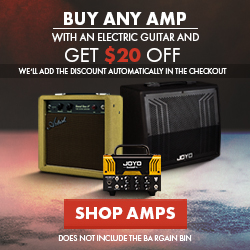 Artist TL69BNDL Left-Handed Thinline Electric Butterscotch Blonde
The TL69BND Thinline Electric is here. It combines the elegant looks of the TC59 but with a Thinline body and a single f-hole on its Mahogany Body. The guitar also comes loaded with our Bullbucker pickups. It's also lighter than the TC59, which is awesome!
Sporting Artist's in-house designed and manufactured "Bullbucker" humbucking pickups, the range of sound possibilities that can be achieved from the '69 whether it be jazz, blues, rock or country, is quite astounding. The "Bullbuckers" are fantastic pickups in their own right and are starting to make some very positive noise amongst guitar players. These "Bullbuckers" also coil-split using a push-pull pot for extra tonal versatility.
The vintage style maple neck is very comfortable, and the modern bridge which allows for each string's intonation to be adjusted separately guarantees that you can set your guitar up to its optimal level - such a necessary and useful innovation.
To top it all off this wonderful little axe has locking machine heads that make sure tuning is never far from perfect.
The Tech Features
Brand: Artist
Model: TL69BNDL
Wood:
Body: Mahogany
Neck: Maple
Fretboard: Maple
Nut:
Material: Bone
Width: 43 mm / 111⁄16")
Bridge: Modern Style Bridge with Brass Saddles (Individually Adjustable)
Neck Profile:
Scale Length: 251⁄2" / 648 mm
Radius: 12" / 305 mm
Shape: C-Shape
Number of Frets: 22
Fret Inlay: Dots
Pickups: Humbucker/Humbucker (Bullbucker pickups with Chrome Covers) with coil-splitting
Machine Heads: Locking Machine Heads
Finish: Butterscotch Blonde
Weight: 3 to 3.5 Kg / 6 lb and 9.8 oz. to 7 lb and 11.5 oz (Approximate)
(16605)
Review Artist TL69BNDL Left-Handed Thinline Electr

I snapped up the last one of these guitars and don't regret that I did for such an incredible price. The guitar arrived early in WA based on the tracking information and that despite all the Covid 19 disruptions. It came fairly well set up with a good action and ready to play and stays in tune - neck is a little chunkier than my other standard tele but comfortable. No paint flaws of any sort - no sharp frets - no fret buzz. The sound and playability is great. I bought it with the aim of it being a project to put some Filter Tron pickups in due to the mahogany body - but the Bullbuckers are great and its incredible to consider that to do so would cost more than the whole guitar itself!!! I would thoroughly recommend Artist guitars for service and quality and several friends have bought guitars in various models at my recommendation and I'm sure there will be more. Needless to say they are all very happy with their guitars. The warranty and return policy is second to no one - and I have proven this when I sent a solid body left handed swamp ash tele back because it weighed a bit too much for me. It was returned back at Artists expense and I promptly got my money back as so as it arrived and they checked it out. My friend kept his and as he uses it in church it looks beautiful and sounds great - and people find it hard to believe it only cost $279. This Thinline tele is a bit lighter which suits me better. As a left handed guitarist its great to see us being taken care of so well. Good on you Artist guitars.





Artist Guitars Response
It is our pleasure and thank you so much for leaving us this feedback. We really appreciate the support!
Believe the hype

If you think all the guitar reviews on this site are too good to be true then don't worry, they're not. Frankly, for $300 this guitar embarasses the big names in budget guitars. Of course there are some imperfections such as a couple of rough edges with the paint inside the F-hole, but everything to do with the way the guitar feels, plays, and sounds is phenomenal. Even the intonation was perfect and the tweed case is ridiculous value for only $79 more. The only downside I've found with this purchase is that I'm afraid it may begin a collection.





Artist Guitars Response
Thank you so much for your rocking review! Cheers and rock on!
Awesome guitar, Awesome price!

I had an Artist TL59 a while back and I loved everything about it EXCEPT the weight. To have a lighter version makes this guitar just perfect at the price point! Set up out of the box was really good, it didn't need much to get this guitar setup to my preference. I hope to see a LH version of something like the Artist ST62IIBK Modern down the line, as a lefty, guitars of this quality and price-point are near impossible to find so keep up the good work Artist Guitars!





Artist Guitars Response
Thanks for the review and we're glad you're satisfied with your new TL69BNDL guitar!
so many features for so little price, Amazing!!

From the Humbucker and single coil capabilities, to the super clean looking locking tuners, this guitar can handle a whole variaty of tones and genres, highly recommend for such a cheap price





Artist Guitars Response
Thank you for the feedback and for all your support. Cheers