Product Description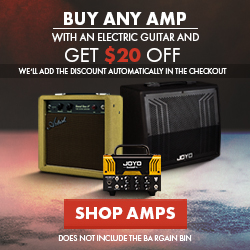 Artist TL69BND Thinline Electric Guitar Butterscotch Blonde
The TL69BND Thinline Electric is here. It combines the elegant looks of the TC59 but with a thinline body and a single f-hole on its Mahogany Body. The guitar also comes loaded with our Bullbucker pickups. It's also lighter than the TC59, which is awesome!
Sporting Artist's in-house designed and manufactured "Bullbucker" humbucking pickups, the range of sound possibilities that can be achieved from the '69 whether it be jazz, blues, rock or country, is quite astounding. The "Bullbuckers" are fantastic pickups in their own right and are starting to make some very positive noise amongst guitar players. These "Bullbuckers" also coil-split using a push-pull pot for extra tonal versatility.
The vintage style maple neck is very comfortable, and the modern bridge which allows for each string's intonation to be adjusted separately guarantees that you can set your guitar up to its optimal level - such a necessary and useful innovation.
To top it all off this wonderful little axe has locking machine heads that make sure that tuning is never far from perfect.
The Tech Features
Brand: Artist
Model: TL69BND
Construction: Bolt-on
Wood:
Body: Mahogany
Neck: Maple
Fretboard: Maple
Nut:
Material: Bone
Width: 43 mm / 111⁄16"
Bridge: Modern Style Bridge with Brass Saddles(Individually Adjustable)
Neck Profile:
Scale Length: 251⁄2" / 648 mm
Fingerboard Radius: 12" / 305mm
Shape: C-Shape
Number of Frets: 22
Inlays: Dots
Pickups:
Neck: Artist Bullbucker with Chrome Covers / Coil-Splitting
Bridge: Artist Bullbucker with Chrome Covers / Coil-Splitting
Controls: 1 x Volume Knob, 1 x Push/Pull Tone Knob for Coil-Splitting, 3-way Switch
Machine Heads: Locking Machine Heads
Finish: Butterscotch Blonde Gloss
Weight: 3.5kg to 3.8kg / 7 lb and 11.4 oz. to 8 lb and 6 oz. approx.
Optional Hardcases: REC300RC, REC350BK, REC350FTB, EC500
Optional Bags: HGBAGST, BAGST
(16419)
TL69: Amazing Value, Amazing Guitar

Short version - great guitar, excellent fit and finish, superb playability and terrific tone, has buckets of sustain. Coil-tapped humbuckers provides tonne of versatility. Longer version - Let me start this review by saying up-front that I'm a guitar teacher and performing musician and have a cupboard full of 'brand-name' guitars. On behalf of my students I've purchased several student style guitar packages and have seen a few older Artist guitars brand-name copies come through the door in the hands of my eager students. However this is the first time I've bought one to use for myself and I have to say I am more than pleasantly surprised. Most guitars straight out of the box require a fair bit of setup to get them playing right but this one was fine, was even in tune! The fit and finish of the instrument is almost perfect with the only issue being a 10 cent coin-sized spot of paint overspray visible in the f-hole. The fit of the neck to the body is super-tight, not even a hair-width gap. No issues with the frets which are nicely finished with no nasty sharp bits or overhang, so young fingers are safe. Also of not is considering for a child is it's weight, or lack of it. It's not a heavy guitar weighing about 3.5 kgs and will suit kids down to 10 or 11 years of age. The guitar sounds brilliant too. If you're keen you can look up my FB page (Ironbark Music Services) for a couple of short vids showing the guitar. Based on my experience with this TL69 I would recommend anyone in the market for a quality, value instrument should consider Artist Guitars. Their after-sales service is excellent too. Occasionally I've had to return a student-level guitar and the process has been painless. Also, if you have only one or two questions they are very prompt to reply via their web page's chat feature.





Artist Guitars Response
Thank you so much for taking the time to write this detailed review. We appreciate it a lot and all your support. Cheers!
Great guitar should go on must buy list

This guitar is exceptional , locking tuners, split coils , individual string intonation bridge, terrific finish and a great neck. How Artist Guitars can make such a great guitar for the price amazes me and to cap it off they includesd a lead and a couple of picks. You have to time your buying right as this model sells out quickly.





Artist Guitars Response
Thank you for the review and we're happy to hear that you're satisfied with your new guitar!
TL69BND Thinline

Waited three months before posting this review as I didn't want first impressions to make me look foolish. This guitar is absolutely exceptional for the price. Where it counts, on sound and playability, it blows anything else below $1000 out of the water. Smooth neck, nice tuners and great pick-ups make for a tele-style guitar that it seems is too cheap for the quality. I only hope that my enjoyment is not bought with the tears of cheap child labour.





Artist Guitars Response
Thank you so much for taking the time to leave a review Doug. We really appreciate your support and I can assure you that our factory does not use and strongly condemn child labour. :)
Ridiculously Awesome

This guitar just arrived today, the 4th guitar i bought from Artist. The only thing i had to do was lower the action. Will probably polish the frets at some stage too if i'm going to be picky. This thing is just awesome to play, absolutely superb guitar and outstanding value for money. I was a bit worried that the yellow color might be a bit bright, but it's not, it's a really nice butterscotch yellow, very attractive!





Artist Guitars Response
We really appreciate your continued support with us Yuri. Thank you so much for the awesome feedback!
Excellent customer service

guitar arrived with some issues, which were quickly and effectively resolved by artist - highly recommended for excellent customer service and support.