Product Description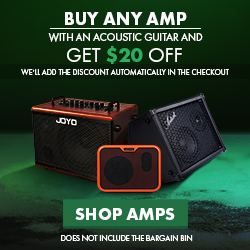 Artist OMC500SN Solid Wood OM Size Acoustic Guitar with EQ and Case
This is one of Artist's top of the range OM acoustic guitar. It sports a solid Cedar top and solid Acacia back and sides. This is an acoustic guitar that is superior in quality and tone. It will definitely hold it's own against any of its competitors. Accompanying the choice quality timbers is a preamp that can certainly give you your tone needs whatever the situation.
The Guitar's Gotoh 510 chrome tuners are extremely reliable and reinforce the great look of the instrument as does the quality bone nut. The neck features a 5 Piece Mahogany construction. In keeping with the quality of this guitar, it uses High Quality Ebony on both the fingerboard and the bridge. Certainly, there can be no doubt that this is a quality instrument that deserves all the accolades that it is now getting.
It comes strung with D'Addario EXP 16 strings and already includes the Artist FC350 which is the suitable hard case to protect this wonderful instrument.
**Includes FC350 Hard Case**
The Tech Features
Brand: Artist
Model: OMC500SN
Body Size: 40" OM Size Acoustic Guitar
Woods:
Top - Solid Cedar
Back and Sides - Solid Acacia
Fingerboard and Bridge: Ebony
Neck: 5 piece Mahogany
Scale Length: 25.4 inches
Nut: Bone
Machine Heads: Gotoh 510 Chrome
Truss Rod: Dual action (2 way)
Accessories: Artist FC350 Hard Case
Strings: D'Addario EXP16
Colour and Finish: Natural Gloss
Preamp: Supernatural SDP-FS Preamp
The preamp features 2 pickup inputs; The Super Discrete Power Bridge Sensor and the Supernatural Face Sensory
Control Plate is fitted into the soundhole. Features a 3 band EQ, Volume Knob and the Push Button to cycle through presets that balances or mixes the 2 pickup inputs.
Low-Battery LED indicator
Easy to change battery changing tool
(16101)
Beautiful

I have had this guitar for nearly a year now and I was reticent to write a review of a higher end guitar, as I'm no professional, probably higher end intermediate at best. I tossed up whether to buy an "expensive" guitar by my standards and was actually looking for a broader nut width than the 43.5 on mine but the survey discount I got, persuaded me to jump in. So glad I did. I bought this guitar for finger picking and flat strumming. The sound, tone, sustain of this guitar are all first class. Minimal setup was required other a lowering of the action and a fret board nourish. The Gotoh 510 tuners are absolutely top notch, (they feature on some "Signature Guitars" worth 25 times the OMC500SN). I have 5 acoustic/electric guitars with 4 different pick ups and although a little fiddly initially, the Supernatural is absolutely my favourite. With a little work, it actually does sound "natural". The included case is great quality and a nice touch. As I said, I have 5 different acoustic guitars in various tunings and the telling thing for me, is that after a year of use, whenever I pick up this guitar after playing the others, it just feels SO right and comfortable. It has actually made me a better player. Thank you Artist.





Artist Guitars Response
Thank you so much for the detailed review. We are so happy to hear that you're satisfied with your OMC500SN guitar.
Sweet.

This purchase was a leap of faith, based on my previous positive experiences with the Artist range of electric guitars. This was an expensive guitar for me, and buying it without being able to hear it or play it first was a bit stressful. I was either going to be an absolute idiot or an absolute genius. I am a freaking genius. This thing is just so damn pretty. I am blown away by the fit, finish, tone and playability. I have Ibanez, Gretsch, Seagull and Ovation acoustic guitars and I was hoping for at least a 'hold its own' sound out of this guitar, but this is the next level up. I can't believe the sustain you get out of the OMC500SN, the clarity and tone just blows me away. I don't really have a need for another plugged in acoustic and have only played it au naturale, so can't comment on the pickups or preamp performance. This is a damn nice instrument, and I can hear it calling out to me right now.





Artist Guitars Response
Thank you for taking the time for leaving a nice review though I am not sure if the 0 rating was by accident. Please let us know if there is anything we can help you with the guitar if so.
Excellent Guitar

This is a great little guitar with an extraordinary sound acoustically and a great EQ System as well..this is the third OM guitar I have bought from Artist guitars and they have just gotten better with each one..although I absolutely love the SHADOW EQ that came with the second (and still my favourite) OMS7SEQ..but the OMC500SN come in an deliciously close second





Artist Guitars Response
Thank you for all the support and trust. Cheers!
Good Performance Guitar

I've put this Guitar - OMC500SN , through various musical scenarios , with violin , harp , piano sessions , various acoustic band setups , solo gigs , straight out of the box , simply cause I had to . I am genuinely impressed and so are each of my band mates , as are the audiences . For a guitar at this price point it is a keeper , as well as a growing appreciation and joy to play . Next is to fine tune the action to my styles , and enjoy the journey . Time will reveal itself as to the lasting evolution , I am optimistic . As said it's a keeper and genuine good value and a good workable quality instrument . Much relieved and Thankful . Cheers . Ps a small issue was the electronics , battery holder array had come adrift , being a handy person , I simply reattached with a quality contact glue , and has behaved well ever since . I just didn't have the time or fuss to complain , unless the issue became serious . Overall very happy with this instrument work wise .





Artist Guitars Response
Thank you very much for your feedback on the guitar. This really means a lot to us. We look forward to doing more business with you in the future. Cheers!