Product Description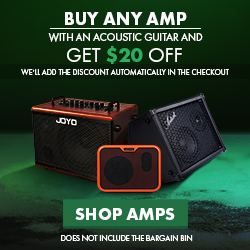 Artist LSPFXNT Natural Acoustic-Electric Guitar with EQ, Speaker and Effects
The LSPFXNT is a dreadnought bodied acoustic guitar that comes with a built-in speaker and effects module. Based on the Artist LSPCEQ, the guitar features a cutaway and built-in pickup. The Guitto GGP-02 effects module, paired with a speaker/inbuilt vibration unit, features Chorus, Reverb, and Delay that can be used without the need for an amplifier, as well as a 2-Band EQ and master volume control.
The GGP-02 preamp picks up the dry signal and then sends the wet signal is sent to the speaker/vibration unit. This vibrates the back panel of the guitar to create effects that are amplified directly through the soundhole.
The guitar features a laminated spruce top and laminated Sapele back and sides. The neck is made from Okumen with an Eco-Rosewood fingerboard and features a truss rod.
The guitar comes with a gig bag, 2 picks, a spare set of strings, and a strap.
The Tech Features
Brand: Artist
Model: LSPFXNT
Built-In Effects: Guitto GGP Onboard Preamp/EQ with Built-in Effects and Speaker/Internal Vibration Unit (Chorus, Delay, and Reverb)
Controls: 2-Band EQ (Bass and Treble), Volume Control
Body Size: Full Sized Dreadnought with Cutaway
Length: 41" (1041mm)
Scale Length: 25.5" (648mm)
Woods:
Top - Laminated Spruce
Back and Sides - Laminated Sapelle
Neck: Wood - Okoumen, 20-22mm (0.83") Thickness with Trussrod, 43mm (1.7") ABS Plastic Nut
Fingerboard: Eco Rosewood, 600mm (23.7") Radius, 6mm (0.2") Front Fret Dots
Bridge: Eco Rosewood with ABS Plastic Saddle, 8.5mm (0.3") Thickness
Frets: 20 Frets, 1mm (0.04") 2.0 White Copper Fretwires
Machine Heads: Die-cast Chrome
Binding:
Body and Fingerboard - Ivory White Binding
Front - 5 Line White Binding
Back - 2mm (0.08") Ivory White Binding with 1 Black Line for Middle
Strings: ACST1152, 11-52, Custom Light, Bronze
Included Accessories: 2 Strap pins, 2 Celluloid Picks, Strap, Soft Case, Spare set of strings.
Rechargeable Battery (included) : 18650
Optional Hardcases: DC300, DFC701, DC350FTB
Optional Gig Bags: Bag42, HGBag42
(16489)
LSPFXNT GOODNESS

Wow. Have owned an artist Cherry 59 for 5 years now. Bought my dad an accoustic/electric and waited till this model was out and running As usual the finish is excellent But the inbuilt effects and speaker just go another level . Stand alone or hooked to an amp this is the most enjoyable guitar to play . Thanks guys.





Artist Guitars Response
You are most welcome and thank you so much for your continued support!
Great value in this guitar

I purchased the Artist LSPFXNT and have to say it's worth every penny. The build quality is excellent and the features are fantastic for the price not to mention the extras included. 5 stars.





Artist Guitars Response
Thanks for the support. Cheers
bang for your buck

what a great guitar and fantastic value along with the usual nice build quality. as soon as it arrived I bought another for a friend, thanks Artist guitars





Artist Guitars Response
We appreciate that you took the time to leave a review. Thank you so much for your support!
Super impressed

I am super impressed with the LSPFXNT guitar. It is extremely well finished, sounds good as a straight acoustic guitar with a nice rich sound, the pickup is extremely good when plugged in to an acoustic guitar amp and the function of the inbuilt speaker is an added bonus and quite amazing. To get all this together with a quality vinyl case and spare set of strings and a couple of plectrums included for the price is amazing value. The only down comment I'd make is the very drap & plain look of the face timber cheapens the look of the guitar and is in contract to the really nice looking timber used for the sides and back. So just a comment and not a complaint. As usual Artist Guitars were great to deal with, delivery to Perth in 10 days during these times was also pretty impressive. This is the 5th guitar I've bought from Artist Guitars and have been rapt in each of them.





Artist Guitars Response
Thank you for your review of the LSPFXNT and we are happy to hear that you like the guitar overall. I have sent you an email regarding the feedback you have on the face timber. Don't hesitate to reach out to us if you have any other questions or concerns. Cheers!
Great value delivered to your door. Amazing sounds

Not only a great, easy to play acoustic guitar but with the push of a button you have reverb and chorus/delay effects straight from the inbuilt speaker! So happy with this amazing guitar. How do they do it for this price! WOW





Artist Guitars Response
We truly want to thank you for your review and we are happy you liked the LSPFXNT guitar. Cheers!