Product Description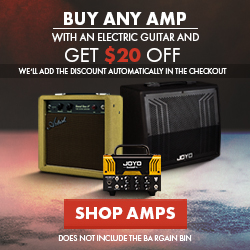 Artist LP6G Cimmerian Electric Guitar with Active Pickups
The LP6G "Cimmerian" is the next generation of what was originally Artist's "Stealth" guitar. As a new example of an old faithful, this guitar offers a few quality improvements without radically altering the idea behind the original instrument.
With a mahogany body, finished in matte black with a subtle vintage binding around the top and nice deep contour on the back that ensures that the guitar sits into your body very comfortably. The active humbucking pickups feature black covers and are secured by gold screws - a nice touch. The gold stop-bar tailpiece and bridge along with the gold volume and tone knobs really add something to the look of this guitar. Not only does this axe play well it looks great, particularly when you're standing under the lights and about to launch into a blistering solo!
The 24 fret neck is mahogany with an eco-rosewood board with the unique mother of pearl inlays and a bone nut.
The headstock has been purposely designed so that the strings maintain a straighter angle to each machine head. This can aid both in tuning and can also help lessen the annoying tendency for strings to snap at the nut.
The gold plated machine heads on this guitar are another great innovation - they look great but most importantly they work well.
This is definitely a guitar that offers value for money on many levels and there is no doubt that if you get your hands on it you may find it very difficult to put it down again.
Are you game to try?
The Tech Features
Brand: Artist
Model: LP6G
Wood:
Body: Mahogany with Basswood Veneer
Neck: Mahogany
Fretboard: Eco-Rosewood
Nut:
Material: Bone
Width: 42mm / 15⁄8"
Bridge: Gold-Coloured Nickel Tune-o-matic with Gold-coloured stop tailpiece
Neck Profile:
Scale Length: 243⁄4" (628mm)
Radius: 12" / 305mm
Number of Frets: 24
Pickups: HE-P Active Pickups
Controls: 2x Volume, 1x Tone, 3-Way Selector Switch
Machine Heads: Gold Die-Cast Locking Machine Heads
Included Accessories: Allen Key, Guitar Cable, 9V Battery
Weight: 3.8 to 4.5 kg / 8 lb and 6 oz to 9 lb and 14.7 oz (Approximate)
Optional Hardcases: LP400BK, LP500BR
Optional Gig Bags: HGBAGST, BAGST
(15819)
Best Christmas EVER!!!

As the proud owner of several high end professional guitars & basses, I became extremely intrigued when I spotted the LP6G here on the Artist Guitars website. I'd been wanting a nice LP Custom or LP Custom style guitar for some time, but wasn't at all happy with the nonsensical prices being asked for them, especially here in Australia. Long story short, my wonderful wife & daughter conspired together and gifted this guitar to me for Christmas yesterday, and now after spending some quality time with it, here are my honest thoughts. The LP6G Cimmerian by Artist Guitars is, in my professional opinion, the very best value electric guitar currently on the market. Out of the box, we were all utterly stunned and lost for words - it's an extremely sexy work of modern art. The finish is more or less flawless and screams 'high end'. The hardware looks and feels anything but entry level. And overall, it punches way, way, WAY above its very modest price point. But of course, as to be expected, it did require a thorough professional set up, so out came the tools. Without too much effort, I managed to get the playing action as low and dangerous as my trusty JEM7VWH (on a 'budget' guitar such as this, that is truly unheard of). The end result... STUNNING!!! Through my Marshall JCM900 stack, this glorious black and gold beast roars as if it's the master of the universe. It blows away most of my other (more expensive) weapons of choice. The active pickups are remarkably capable and sound very impressive. In summery, anyone who mistakenly considers this instrument as merely some 'budget beginner guitar' is really missing out. It only needed a few typical luthier tweaks to bring it up to my preferred spec. As it is now, I will happily use this awesomely dangerous value-laden 6 string beauty both in the studio and live. And who knows, I might even grab another as a backup. 5 twinkly stars for unprecedented value. Stop thinking about it and place your order, you fool!





Artist Guitars Response
WOW! So glad we made you happy with this, mate! Thanks so much for your awesome review! Do not hesitate to reach out should you have questions, we're always ready to help! Keep rockin'!
If You Can't Beat 'Em, Join 'Em! Frick'n Awesome!

Whilst looking around for a cheap, bargain priced Godin, which I may add are becoming increasingly more difficult to find, I came across these Australian distributed, Chinese made cheap/entry level guitars. These are made by a Chinese manufacturer for Artist Guitars Direct in Australia. i.e. Private Label guitars. Originally their first factory in China ended up having too many quality issues and so the story goes they are onto their second manufacturer. This factory is delivering a quality guitar for them. I purchased two guitars from them to compare the quality and now will purchase another three at least from them in 2022. This review is for my first purchase, the 2021 LP6G Cimmerian, which I must say I purchased as a Customer returned guitar so the blemishes and some of the items below must be taken in context. This has a heavy Mahogany body, although my early 70's Gibson LP feels heavier, a bone nut, locking tuners and active HEA branded pickups. Definitely aimed at the Heavy Rock/Metal market this is a rock guitar and from all the YouTube sound reviews I've seen has some great heavy rock and metal sounds when used that way. Although the guitar I purchased was a customer return, the finish was extremely good; much, much better than expected for $300 AUD with a hard case. The headstock had a chip off it and a couple of hardly noticeable 2mm ø dints whilst the paint work on the front and rear had a few barely noticeable, minor surface scratches or marks; all as detailed in the sales page. Nothing to worry about and I'm sure there will be many more after I use it for a while. The neck binding had a factory finish blemish with the fret dots in it being off centre and the first fret had a 1mm dent or distortion in it on the head side of it that didn't affect playability. It was probably made by the tool used to install the fret. The side of the neck was smooth to my feel and the only thing I felt needed attention was to polish the frets as they felt gritty when bending, straight out of the box. The binding overall was done extremely well as was the overall finish including a very tasteful logo; to the standard you'd expect on a guitar ten or more times dearer. Perhaps numbering the guitars in the future will help to make them more in-demand as a players brand. Oh and I must say, the contoured cut outs beside the neck and on the body are exactly what I've been wanting in an LP shaped guitar. It's a wonder Gibson haven't done that yet. All hardware worked great and the locking tuners were a bonus. The three knobs for the controls looked a little cheap as they were slightly off centre drilled and so there was rotational movement that could be seen by me as they were turned. The pots for the controls may need to be changed to a more easily controllable range as they seemed to have most of their control in the last 3rd or less of movement; different to a high end guitar. That being said they work fine, no scratchiness and would be fine for a student. As a pro, I may or may not change out the pots but will upgrade the knobs to knurled brass type ones in keeping with the guitar's gold hardware colour scheme. The active HEA branded HE-P Humbucking pickups are a real bonus! They don't do the clean sounds real easily, but can when you know what you're doing, but they really specialise in rocking out and metal sounds. Crisp and clear metal or full and heavy rock. I don't know anything about the HEA brand so I "assume" they may well be specific for the Artist brand. They look great and fit in with the overall excellent finish of this guitar. The gold coloured LP style stop tail-piece and tune-o-matic style bridge all lend to the classy LP look of the guitar. The guitar when I received it was setup with a medium / low action and I think the harmonics had been adjusted in as they were nearly spot on. It could be I had it tuned for a half-step down, which is where I use my live performance guitars so I could be wrong. If this is how it came from the factory then that is fantastic for this price point. It came with D'Addario EXL110 strings (10 to 46); just my size. When I'm ready to use it after polishing the frets I will install and set it up for my 10 - 46 Dean Markley Blue Steel strings. The nut will need a slight touch up as it's got a couple of sharp corners on it but that is a 5 minute job; nothing in the big scheme of things. Let me say I am not a fan of Chinese made guitars from what I've seen, heard and experienced in the past. More recently, I have purchased guitars made in China from other Australian distributors with their own labels and they require much more nut, neck, fret and setup work than this one. Even then some of them are a great buy for a student to intermediate player, whereas this one with a few minor change-outs and tweaks could easily become a pro's every gig tool. Artist Guitars, Congratulations. I'm impressed! ------- Brian ... The Party Band - Man/Duo/Trio ...





Artist Guitars Response
Thank you so much for this lovely and detailed feedback on the LP6G. This will definitely help customers who are planning on getting one. We really appreciate the support!
Stealth LP6

Got this guitar after buying the Artist LP with Wilkinson pic ups as I love it, and the active pic ups are awesome they have a nice clean sound but also very punchy sound and are great for all sorts of music especially heavy metal. This guitar has great sustain as for the set neck hold its tone longer and I guess the active pic ups have also something to do with this. It has amazing playability the action is great it was great straight out of the box. No buzzing on threats and the only real thing I can fault is a couple of sharp threats that catch me up as I slide up the neck playing. But this is a easy fix anyway. its a great price for this style of guitar well worth the money





Artist Guitars Response
We are glad to hear that overall, you are enjoying the guitar. Thank you for leaving a detailed review about it.
LP6G Cimmerian w/ active pickups

Extremely impressed with the sound and the quality of this guitar- especially considering the price was so affordable! I now own 2 Artist guitars and will continue buying them.





Artist Guitars Response
Thank you so much for taking the time to share this feedback. We really appreciate the support!
Awesome Axe

Decided to get the Cimmerian as I have a plan! Spotted a "customer returned" LP6G in the bargain bin for $263. Thought, as it is returned, the guys at Artist would've checked it over to make sure it was still fine, which means it's been checked (instead of taking any chances with a brand new one still in the box.). It turned up within a week (not bad considering Australia Post's delivery issues), all nicely boxed up and protected. WOW! Straight out of the box, just needed tuning and away I went! Plays awesomely well for such a budget priced guitar. The pickups are amazing. I had been scouting a LTD with ESP actives, but I reckon the sound in HEA's are more suited to my style. Sure, they'd be great if you wanted to shred, but I think they are really good for 70's style hard rock, and some gritty hard edged blues. So versatile. The guitar looks a treat. It still is fairly weighty, so it has plenty of tonal qualities. The tummy cut & modulated cut away make the guitar very comfortable to play (for a fat old uncoordinated codger such as myself!). Action was good (could be a fraction lower???), and the guitar holds tune quite well with the locking tuners (the G string tuner feels a little too easy to turn, but it's not affecting tuning stability at all. My only slight concern on the whole guitar). The finish is pretty good too, the binding & matte finish work well. My project is for my daughter to do some artwork on the body with some acrylics (then I'll do a clear matte coat or two to protect the work). With what she has shown me with the preliminary sketches it is going to look ace (with a glorious hard rock/classic metal vibe). Thanks Artist guitars. I just don't know how you do it for the price? I could have easily have paid 5 times as much & probably not have that much better a product (and one that would not give me the sound I'm looking for). Could've given yas 10 stars! :)





Artist Guitars Response
thank you so much for your kind words. We are very glad that you're enjoying the guitar. It's always been our goal to make our customers happy by providing great quality instruments and gear. If you have any concerns, please feel free to reach out. We're always here to be of service to you. Cheers!