Product Description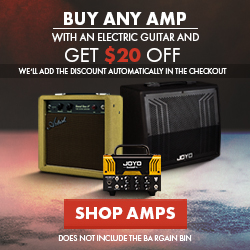 Artist LP6G Cimmerian Electric Guitar with Active Pickups
The LP6G "Cimmerian" is the next generation of what was originally Artist's "Stealth" guitar. As a new example of an "old faithful", this guitar offers a few quality improvements without radically altering the idea behind the original instrument.
With a mahogany body, finished in matte black with a subtle vintage binding around the top and nice deep contour on the back that ensures that the guitar sits into your body very comfortably. The active humbucking pickups feature black covers and are secured by gold screws - a nice touch. The gold stop tailpiece and bridge along with the gold volume and tone knobs really add something to the look of this guitar. So not only does this axe play well it looks great particularly when you're standing under the lights and about to launch into that blistering solo!
The 24 fret neck is mahogany on an eco-rosewood board with the unique mother of pearl inlays a feature as is the bone nut.
The headstock has been purposely designed so that the strings maintain a straighter angle to each machine head. This can aid both in tuning and can also help lessen the annoying tendency for strings to snap at the nut.
The gold plated machine heads on this guitar are another great innovation - they look great but most importantly they work well.
This is definitely a guitar that offers value for money on many levels and there is no doubt that if you get your hands on it you may find it very difficult to put it down again.
Are you game to try?
The Tech Features
Brand: Artist
Model: LP6G
Wood:
Body: Mahogany with Basswood Veneer
Neck: Mahogany
Fretboard: Eco-Rosewood
Nut:
Material: Bone
Width: 42mm / 15⁄8"
Bridge: Gold-Coloured Nickel Tune-o-matic with Gold-coloured stop tailpiece
Neck Profile:
Scale Length: 243⁄4" (628mm)
Radius: 12" / 305mm
Number of Frets: 24
Pickups: HE-P Active Pickups
Controls: 1 x Volume, Bass, and Treble Knob
Machine Heads: Gold Die-Cast Locking Machine Heads
Included Accessories: Allen Key, Guitar Cable, 9V Battery
Weight: 3.8 to 4.5 kg / 8 lb and 6 oz to 9 lb and 14.7 oz (Approximate)
Optional Hardcases: LP400BK, LP500BR
Optional Gig Bags: HGBAGST, BAGST
(15819)
Artist LP6G Cimmerian

I Love This thing... An Absolute steal at this price. The Finish on this guitar is Superb. Neck is super smooth and fast. Yes Sure it needed a few little tweaks here and there. Yes the Pickups are Hot, They are active's and i would expect no less. The First thing i did was pull the strings, gave the fret board a good clean polish, and put a new set of Slinky 10/46s on it, Tuning down to Eb, adjusted the action a little for my liking, But overall this guitar is amazing....and At $329 mind you. It aint going to be perfect, but gees , its not far off it. And from my experience so far its all just minor adjustments.Ive been playing for over 27 years, A few guitars in my collection, My usual main goto being a Esp Ltd MH410Qm which also has active pickups, But also mind you cost over four times the amount of this thing. I wanted another guitar with active pickups ,but with a fixed bridge. If your play rock and metal, and know yourself around a guitar enough to tweak and setup.The Artist LP6G is a great guitar for the money,Hands Down.





Artist Guitars Response
Thank you so much for the feedback. We really appreciate the support!
LP6G CIMMERIAN ELECTRIC GUITAR WITH ACTIVE PICKUPS

Nice guitar But I am little disappointed in it. First to mention, even though Artist sent me a set of replacement strings. The strings should of been installed on properly before letting it go out! as they were too short. And it has annoying noise. I So I needed to find out if they put any shielding. And No there is no Shielding behind the covers on the back plates what so ever. A little disappointed in that. As my other guitars do not have any noise. I thought it was my battery for the active pickups. I replaced the battery and the noise is still there. The toggle switch has a static noise when I switch too. Was this a Customer return they sent me? The guitar has QC sticker on the back of the neck QC by Leo. Leo why?





Artist Guitars Response
Thank you for the feedback as we immediately raise issues like this with the factory to avoid them from happening again. However, we're sorry for the inconvenience you experienced but we're happy to see that the team has already sent you a replacement set of strings to compensate for this. Please check the email we sent you so we can assist you further.
Artist LP6G Cimmerian

I'd ordered the LP6G as I was looking for a 24 fret rock machine with a LP shape. The LP6G arrived in good time and was perfectly packaged. Finish: The matte black finish is understated but actually quite striking, the binding around the body coupled with the gold hardware gives a premium look. The fretwork is spot on—as expected from Artist. Playability: Due to the matte finish, the neck is really smooth and fast. The 12" radius makes for a nice flat playing feel, the guitar did require some action adjustment and intonation setup out of the box, but nothing too excessive. The locking tuners are a great addition and really good quality. Sound: The two HE-P active pickups are beasts and very high output. The bridge pickup screams and the neck pickup is warm and smooth. Mixing the two in the middle position offers a lot of tonal variations. There have been a number of comments that these pickups are too hot and clip when recording, using a good DI Box with a -db Pad is a must, one with a variable -db, even better. Overall: Highly recommended for anyone who plays rock or metal, a guitar that definitely punches above it's price point!





Artist Guitars Response
Thanks for the rocking review and for all your support. Rock on!
Lp6g

Bought this about a year ago, and switched out the pickups for EMG 60/80's sounds beyond comprehension. Low string action, no buzz, D shaped neck and neck scale feels amazing. Cons: original machine heads go out of tune at the slightest of string bending, hardware corrodes very quickly.





Artist Guitars Response
Hello Reece. Thank you for leaving a review for the guitar. We are glad to hear that you are mostly happy with the guitar. The problem with the machine heads and the hardware is not something that normally happens with our guitars. I have sent you an email regarding this so we can have this addressed.
Artist LP6G

Blown away. Beautiful guitar with a great sound. I will definitely buy another Artist guitar in the future.