Product Description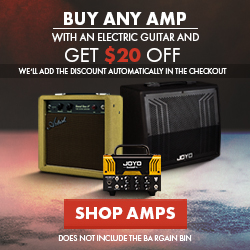 Artist GM1BK Grungemaster Electric Guitar Black
Our Artist GRUNGEMASTER was purposely designed here at Artist Guitars to be a great 1st guitar to set you on your path of dirty riffs... it has a Poplar body, Maple Neck with Eco-Rosewood fretboard and plastic block-shaped Inlays, two 'P90' styled Single Coil Ceramic Bar Pickups with a 3-way selector, Tune-O-Matic bridge with a Stop-Tail-Bar for greater stability, and Die-cast Chrome Machine Head tuners.
The Tech Features
Brand: Artist
Model: GM1BK
Neck: 251⁄2" / 648 mm scale Maple Bolt-On Neck, Truss Rod
Fretboard: 21 Frets, Eco-Rosewood Fretboard with 'Block' shaped plastic Inlays
Body: Poplar with a Tortoiseshell scratchplate
Machine Heads: Die-cast Chrome
Bridge: Chrome coloured tune-o-Matic style, with 'Stop-Bar' anchor.
Pickups: Cream coloured soap bar covered 'P90' type pickups, ceramic bar magnet.
Neck - M-90N 7.8K 5.2H
Bridge - M-90B 9.2K 6.2H
Controls: 1 x Volume, 1 x Tone and a 3-way switch
Strings: 10-46 Gauge Electric Guitar Strings
Neck Profile:
Scale: 251⁄2" / 648mm
Nut: 42 mm / 15⁄8" ABS Plastic Nut
1st fret Thickness: 21mm / 13⁄16 "
Shape: Modern D
Fretboard Radius: 12" / 305 mm
Colour: Black
Dimensions: 103.5 cm x 54 cm x 8.5 cm / 403⁄4" x 211⁄4" x 33⁄8"
Weight: 3kg - 3.5kg / 6 lb and 9.8 oz - 7 lb and 11.4 oz approximate
Optional Hard Cases: REC300RC, REC350FTB, REC350BK
Optional Gig Bags: HGBAGST, BAGST
(16410)
I really really love this guitar!!!

Not only is my Artist Black Grungemaster one of the best looking guitars I have seen - it rocks!! I love the P90s - they crunch and they growl! This guitar is so well made and is so much fun to play! I have played hundred of gigs with a vintage Fender Jazzmaster, but this guitar leaves it for dead. Simple set up, great neck, great sound, solid construction and it stays in tune!!! Thank you Artist Guitars - this won't be my last purchase from you.





Artist Guitars Response
Thanks a lot for your feedback on the guitar. This means a lot to us. We're always here for you so don't hesitate to reach out if you have any questions. Cheers!
Great acquisition

It looks like I ordered this baby just in time! I've been looking at these online for months and have just taken the plunge as I wanted something with P-90s. This guitar was a great purchase and I've just put it down after it arrived earlier this afternoon. Really well made - the overall build and paint job is beautiful and the satin finish on the neck just feels great. No fret buzz or bitey fret ends. Little things like the knobs and jack are all tight and do what they're supposed to do (better quality than the fittings on a new major brand guitar which I got a couple of years back). It feels great - another reviewer thought it was a little heavy but I actually was surprised how light it is. This thing sounds great - I haven't cranked it up too much yet (that would mean taking it out the back and moving amps around) but it's a delight to play. It's got a lovely warm tone and sounds awesome when put through an overdrive pedal. 5 stars - I can't take any stars off for the two problems I have with it: 1) quite a time of it getting all the plastic off the nooks and crannies of the pick guard and 2) the name. Grungemaster?! I know back to the 90s is fashionable but.... Seriously, this is a great guitar and staggeringly good value. Wait a few months for this one or the tobacco sunburst or just snap up a white one now.





Artist Guitars Response
Thank you for your review and we truly appreciate the feedback. Please feel free to reach out if there is anything we can do to assist. Cheers.
Grunge guitar puchase...

received my guitar order, very nice design, a wee bit heavier than I thought it looked but all in all, very satisfied, customer service was great too, thanks people, cheers
Grungemaster

as a professional player i have quite a few guitars , some i dont play , but this one is way up there with the best. Its Neck is amazing, great Jumbo frets that dont gouge out , I play pretty heavy , these can take it. It doesnt go out of tune at all. I really do recommend this guitar and the company . Both amazing.
It's brilliant.

Looks great and the black finish is flawless. Easy to set up and can get the action very low with out buzzing. Pickups sound good and have reasonably high output and are well balanced but my preference would be for a lower output alnico pickup but this is an easy mod and personal taste. Being a 25.5" scale length does give you a little higher string tension but you get used to it quickly. Tuning stability is spot on. A very well put together instrument and crazy good value. You cant go wrong.