Product Description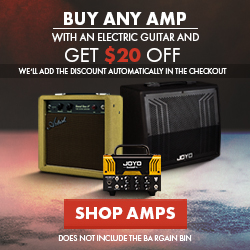 The Artist EB2 Black Full Sized Electric Guitar
The Artist EB2 might be our entry-level budget guitar but it definitely offers a little more than the price would suggest. It is a full-size electric guitar that is based on our popular STH series. If there is a word that would describe the EB2 it would be simplicity.
Not only is it a guitar that maintains simplicity in design and build quality but also in its electronics. Sporting a single humbucker in the bridge position and controlled by a single volume knob the EB2 is not only a cool little lead machine but it can also cover more mellow tones when required. Add to this a very comfortable modern "C" shape neck and you have a great entry level guitar at a budget price.
Something else that is worth mentioning is the fact that the body is routed for a HSS Strat 3-way pickup system which may be useful moving forward if you are looking to hotrod your EB2 post-purchase.
There are no accessories included with this guitar.
The Tech Features
Brand: Artist
Model: EB2
Fingerboard Radius: 12" (305mm)
Colour: Black body, Natural neck
Woods: Poplar Body, Maple Neck with an Eco-rosewood Fretboard
Pickup: 1x Humbucker
Controls: 1x Volume Pot
Accessories: 2x Picks, Adjustment Allen Keys, 1x Guitar Lead
Optional Hard Cases: REC300RC, REC350BK, REC350FTB, EC500
Optional Gig Bags: HGBAGST, BAGST
(12685)
Too good to for parts

I originally purchased this guitar for the body to use on a partscaster. However, I played it out of the box and it was too good to strip down. The Rosewood neck has a great feel to it and after tuning, the guitar was perfectly intonated. At this price it is a perfect guitar to throw in the back of the car when travelling and you don't want the good strat to get knocked around.





Artist Guitars Response
Thank you so much for taking the time to leave feedback. We really appreciate the support!
Artist EB2 Single Pickup Electric Guitar

This Guitar is Just Another Lovely budget priced Instrument. That Goes one step further in a well priced.. One pickup guitar.. The bass and the treble on this pickup can easily be sought on Amp and prdsals... Lovely finish and shape..





Artist Guitars Response
Thanks for the review and we're happy to know that your satisfied with your new guitar
Artist Guitars Are Awesome !

This is my second purchase of this Strat Style Guitar and I got to tell you people for $99 its the Best Cheapest Guitar I have ever purchased in 35 years of playing I will be using it for a project but as a base for a Hot Rod Mod its amazing quality.... the neck is as good as some of my high end guitars great fret work , the paint finish is Superb and it stand up to any of the other brands out there with a nice all round finish that's a pleasant surprise and the aftersales customer service is second to none ......I'm a Happy Man and I will be back for more! Many Thanks Artist Guitars !





Artist Guitars Response
Thank you for all your support. Cheers
BEST $100 GUITAR AROUND

Its the best $100 Guitar EVER!!!! I did a youtube review on this guitar https://www.youtube.com/watch?v=PC8uUoiK3s4





Artist Guitars Response
Thank you so much for all the support
Very good

Very good value for money.





Artist Guitars Response
Thanks for all the support. Cheers