How to Use VideoAsk to Send Artist Guitars a Video
Our Customer Happiness team are always on hand to answer questions, offer advice on our products, or assist however we can if you have any issues at all. We also have a knowledgeable technical team to help troubleshoot any issues, but it's not always possible for our team to inspect an instrument in person if you do have a problem.
Instead, we use a very helpful tool called VideoAsk to help you to show us what the problem is.
In this blog I'll outline the easiest way to use VideoAsk to record a video demonstration for us.
VideoAsk step-by-step
Open the VideoAsk link and select the "video" option
Ensure your computer or mobile device allows access to the camera and microphone. You will be prompted by the "request permissions" button:
Hit the big, red, "record" button to begin recording your video. Once you have finished, press this button again to stop the recording and review your video
If you're happy with the video demonstration, click "YES" to continue, otherwise, click "NO" to rerecord your video and try again
Ensure you have included your contact email address and one of our team will get back to you as soon as possible!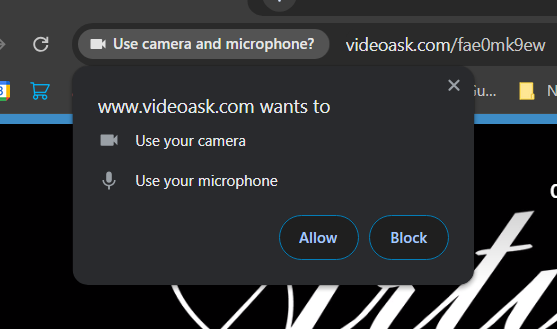 When making your VideoAsk video, remember these key points to help us to help you:
Speak clearly and try to limit background noise or interruptions
Show us the problem in action as well as describing it for us
Remember to allow permissions on your device for VideoAsk to use your camera and microphone, otherwise we won't be able to see or hear anything on our end!
---
Leave a comment