Product Description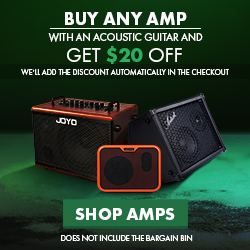 Artist OS60EQ O Sized Parlour Acoustic-Electric Guitar with Solid Top & EQ
This is our O Size Solid Top Parlour Guitar with a great sound. Based on a vintage style parlour these guitars have solid cedar top and a nice crisp bright tone. This is a very small guitar but it has a surprising amount of resonance. This guitar has a 2-way truss rod for easy adjustment. The vintage covered machine heads this guitar has are solid and smooth. The Bone nut and saddle pair up nicely with the D'Addario EXP16 strings that come with the guitar out of the box.
We have fitted this instrument with the compact Fishman Presys II preamp, which has a built-in tuner, phase, bass, treble, and volume controls. We can't go without mentioning that Artist Guitars loves the environment as much as it loves music. The OS60EQ has an Eco-Rosewood fingerboard and bridge, keeping to NAMM's (National Association of Music Merchants) mission to make music more sustainable for our future generations.
The Tech Features
Brand: Artist
Model: OS60EQ
Body Size: OSize
Total Length: 37 3/4"
Body Length: 19 1/8"
Body Width: 13 1/2"
Body Depth: 4 1/16"
Woods: Top - Solid Cedar, Back and Sides - Laminated Ash, Fingerboard and Bridge - Eco-Rosewood, Binding - Multi Bound black and white, Headstock - Walnut Veneer, Neck -Okumen
Neck: 18 fret, 49mm Bone Nut, Scale length - 24.25" , 2 way truss-rod
Machine Heads: Vintage covered
Included Accessories: FishmanPresys II Preampwith built-in tuner, bone nut & saddle.
Strings: D'Addario EXP16
Colour: Matte Natural
Optional Gig Bags: BAG39, HGBAG39
No Hardcases we sell will fit this guitar
(15198)
Parlour Guitar

Bought the parlour guitar recently and it's everything as advertised and more. I went for the parlour model as I wanted a wider than average acoustic for fingerstyle but not as wide as a Classical nylon string guitar. This fits the bill exactly at 49mm nut width. The sound is very good, lots of resonance, the fitted bass strings can sound a little muddy when playing finger style without picks but when amplified they're fine. Overall great value definitely recommended.





Artist Guitars Response
Thank you for leaving a review for the guitar. We are delighted you are happy with it. Do not hesitate to contact us if you need assistance or have a question.
Stunningly good sounding parlour guitar

I dropped in to the Artist Guitars shopfront in St Peters in Sydney to pick up some accessories. I asked the salesman if I could play one of the guitars from up on the wall while he went out the back to collect my goods. I saw this gorgeous looking little parlour guitar so I thought I would give it a try. I sat down and tuned it up and found that once it actually stayed in tune while being played ... that's the first sign of a good instrument ... and the sound was stunningly good. Warm, rich and with a clear and resonant mid-range. Not only did the instrument sound good, it felt fantastic under the fingers. What an incredible guitar. When the salesman came back I asked how much the instrument cost. I thought he said $1300 and something... and I thought to myself " that's a pretty good price for this incredibly good quality guitar" (solid cedar top, ash back and sides, Fishman pre-amp and pickup, all quality materials) and when I said I thought under two grand is pretty good he stopped me and said no no no it's actually $369 !!! I nearly fell off the stool I was sitting on. I bought one from their online store the very next day, it arrived within 2 days and it sits comfortably with my Maton, my Takamine and my luthier-made LKS Cittern and Shinano (luthier-made) classical guitar. Brilliant!
Thanks artistguitars!!

I chose the artistguitars for my first guitar purchase. My choice was correct. I appreciate your kindness. I will continue to be with the artist guitars. Good luck!
Everything I wanted... but BIGGER (sound)

I'm a big fan of smaller body guitars - I have used a 000 size for gigging for the past 6 years. I've been wanting a smaller one, but not as tiny as the Baby Martin or Mini Maton. And everyone knows how pricey genuine vintage parlour guitars can be! I visited Artist's showroom to check out their 000 equivalent but I fell in love with the 0-sized parlour instead. The acoustic sound is what you'd expect from a small unit, but the Fishman pickup paired with this guitar makes it sound 5 times bigger. I love the tone and resonance of the Cedar top and the ash body is stunning and elaborate. The size and sound, combined with the stunning vintage looks, this has quickly become the gig-guitar of choice. (Note, that like most parlours, the neck is wider than modern style guitars, so I definitely recommend playing it first to discover for yourself if it's the right choice for you.) Regarding cases - It is difficult finding a hard case for this (as is common with parlours due to their varying bodyshapes) but I did find a gig bag (Extreme) that fits it perfectly. For the price, it's absolutely exactly what I was looking for. Thanks Artist :)
Amazing Parlour

Thanks for this great Parlour Guitar, Artist. What an amazing product. Beautiful sound, great action, in tune everywhere. I was amazed when I first plugged in. The pick-up is top notch. So good I am buying several for my school as well. Well done