Product Description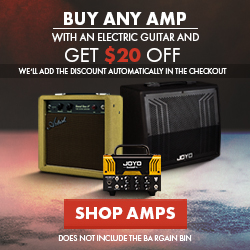 Artist LP60 Electric Guitar with Accessories
This Electric Guitar is used for various styles of music, most notably all the styles of Rock, Blues, and Metal. All of these guitars have a Set Neck for superior sustain and tone, unlike a lot of similarly priced guitars on the market that usually have a bolt-on neck.
Note: the 'Set Neck' design on any guitar type always gives superior SUSTAIN and TONE over a 'Bolt-on Neck' design... (This is why Metalheads the world over play only set neck guitars).
This is a full size guitar perfect for Adults, recommended for children over the age of 12 (or younger if your child is strong and taller than 1.2m)
It includes all accessories you need to get started:
LP60 Electric Guitar
Electronic Guitar Tuner
Strap
Bag
Lead
Picks
Receive free exclusive access to video lessons when you buy a guitar pack:
We are proud to offer you a series of online lessons designed specifically for beginning guitar students. This series of lessons was designed inhouse, to give you the best start to your musical career. This is what this lesson pack is all about - the stuff that nobody really tells you at the start of your guitar playing journey. Issues like holding the guitar, using a plectrum and some simple exercises to start you off.
So whether you're 7 or 70, take some time to check out the lesson pack and most importantly - be patient and have fun! Note that you would need to be logged into your Artist Guitar's account and you would have to subscribe to our Newsletter first to receive the link to the lesson program. You can UNSUBSCRIBE as soon as you get the link.
Some of this guitar's Great Features:

It has an Okumen neck with an eco-rosewood fretboard, a 2 way truss rod (which means you can adjust the neck up or down)



The body is made of Okumen, which is lighter than mahogany whilst still providing warmth, and it has a maple tiger stripe veneer for good looks. To top it off we've added the classic-look cream pickguard.



Two Wilkinson humbuckers for a great classic rock and metal tones!



It has a Tune-O-Matic style fixed bridge (common in most LP guitars) & die-cast machine heads that will help you stay in tune longer and make your tuning easier.

We include a range of support materials from how to tune, how to read tab, basic chord shapes and more.
The Tech Features
Brand: Artist
Model: LP60BK
Neck: Set Neck, Truss Rod, Scale Length 24 3/4", 42mm Nut, 22 Frets, Eco-Rosewood fingerboard, Trapeziod Pearloid Inlays, Okumen Neck
Fingerboard Radius: 12" (305mm)
Body Wood: Okumen with a Flame Maple veneer
Machine Heads: Die-cast Chrome
Bridge: Classic tune-o-matic style
Pickups: 2 x Humbuckers
Pickguard: Cream
Controls: 2 x Volume, 2 x Tone and a 3-way switch
Included Accessories: Bag, Strap & Electronic Tuner, Neck adjustment Allen key's, Guitar Lead, Picks
Weight: 3.5kg - 4.2kg approx.
Optional Hardcases: LP400BK, LP500BR
Optional Gig Bags: HGBAGST, BAGST
(15028)
WARNING - KEEP BUTTON BATTERIES OUT OF REACH OF CHILDREN
Swallowing may lead to serious or fatal injury in as little as 2 hours, due to chemical burns and potential perforation of the esophagus.
Never allow children to replace button batteries of any device.
If you suspect your child has swallowed or inserted a button battery immediately call the 24-hour Poisons Information Centre on 1311 26 (Australia) or 0800 764 766 (New Zealand) for fast, expert advice.
Regularly examine devices and make sure the battery compartment is correctly secured, e.g. that the screw or other mechanical fastener is tightened. Do not use if compartment is not secure.
Dispose of used button batteries immediately and safely out of the reach of children. A battery can still be dangerous even when it can no longer operate the device.
Tell others about the risk associated with button batteries and how to keep their children safe.
Excellent value

Looks great... feels great... sounds great.. Good work once again, team Artist.





Artist Guitars Response
We really appreciate the review. We are glad to hear that you are a satisfied customer and happy with the purchase.
Excellent value

Looks great... feels great... sounds great.. Good work once again, team Artist.





Artist Guitars Response
It is our pleasure and thank you so much for leaving us this feedback. We really appreciate the support!
LP60 Black

Awesome guitar... incredible value for the price. Recommend to any level player (from beginner through to pro).





Artist Guitars Response
Thanks a lot for the kind words. We appreciate it. We are happy that you like it. We're always here to be of service to you so feel free to reach out if you need us.
third guitar

great guitar and bought hardcase as well. pity i could not just get guitar and hardcase without the accessories bag and pack... now waiting to get my next one...





Artist Guitars Response
Thank you so much for taking the time to leave this review. I do apologize that our beginner models such as the LP60 are bundled together with the accessories and cannot be purchased separately. We do appreciate the support!
Excellent Guitar, great tone and control

Overall, playing through my rigs and vst amp sims like guitar rig 5 sound amazing, right up to epiphone les Paul's sounds and tones, great guitar!





Artist Guitars Response
Thank you so much for the review and we're happy to hear that you're satisfied with your new guitar!