Product Description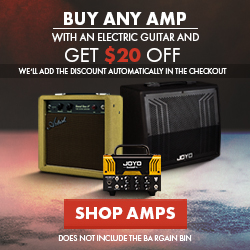 Buy as a Pack And Save!
This pack includes:
1 x Artist LP59CSB Deluxe Electric Guitar Cherry Burst + Bullbucker Pickups
1 x Artist LP400BK Arch Top Hard Case fits Les Paul Guitars - Black
Artist LP59CSB Deluxe Electric Guitar Cherry Sunburst
The Artist LP59CSB guitar is our top of the line guitar. whether it be for gigging or recording, this is definitely one of the best guitars on the market in relation to quality and price. This guitar has a great rock/ blues sound that easily produces that big fat fluid sound so typical of any good quality guitar.
The body consists of a 5A grade flame maple veneer top that is finished off with a single-ply cream binding over a carved poplar cap and a back of solid African mahogany.. The plain sawn set neck is made of mahogany and has an eco-rosewood fretboard. The 22 fret neck is a comfortable "C" shape with trapezoid mother of pearl inlaid into the eco-rosewood fretboard. With the typical 24.75" scale length you are sure to bend notes as well as any blues or rock player going around.
The guitar is finished with an impressive Cherry Sunburst while the back is a clear polyurethane finish. The deluxe hardware consists of chrome locking tuners, lock-down-post Tune-O-Matic bridge with roller saddles, and an aluminium Stop Tailpiece.
The Pickups we use on our LP59CSB are our signature Artist Bullbucker Pickups with Nickel Silver covers. The pickups on this model are COIL SPLITTING. They have a creamy smooth sound on the neck pickup while the bridge pickup breaks up nicely with no harsh upper mids. They are both vintage-moderate output pickups. An added feature is that both pickups offer coil splitting which guarantees that this guitar will deliver a wide range of tonal options.
We also use the best electronic parts to reproduce the classic wiring configuration. 2 Volume and 2 Tone Control, standard 3-way toggle switch, Japanese Split Brass Shaft 500K Pots, 0.022uF,400V ceramic capacitors, and 1/4" Input Jack.
The factory strings are standard D'Addario EXL110 strings.
The Tech Features
Brand: Artist
Model: LP59CSB
Body:
5A Flame Maple Veneer over poplar cap
Single cutaway
African Mahogany Back
Single-ply cream binding on body top
Neck:
One-piece plain-sawn, Set-in, Eco-Rosewood Fingerboard with single cream binding,
Trapezoid Mother of Pearl Fingerboard Inlays,
12" (305mm) Fingerboard Radius,
22 frets,
Bone Nut 1 11/16" wide,
24.75" Scale,
"C" shaped

Finish:
Cherry Sunburst with Polyurethane Finish.
Hardware:
Nickel Chrome Plated Parts
D-Style Locking Tuners
Lock-down-post Tune-O-Matic Bridge with roller saddles
Aluminum Stop Tailpiece,
Gold top-hat ("bonnet") shape knobs

Pickups:
2 x Bullbucker Pickups with Coil Splits
2x Volume and 2x Tone Control, 3 Way Toggle Switch, (Split Coil Push-Pull)
Japanese Split Brass Shaft 500K Pots,
0.022uF,400V Ceramic capacitors,
Chinese 'switchcraft' style 1/4" Input Jack.
Weight: 3.5kg - 4.2kg approx.
Optional Hardcases: LP400BK, LP500BR
Optional Gig Bags: HGBAGST, BAGST
Artist LP400BK Arch Top Hard Case fits Les Paul Guitars - Black
Protect your Les Paul From Damage with this Hard Case
This Hard Case will fit a Les Paul Standard, Les Paul Custom as well as a Belman Albatross and keep it safe and sound. It has sturdy wooden construction with a lockable latch (the key is inside the case). It has a great little compartment for all your accessories and spare strings.
It has been upgraded to fit Epiphone Les Pauls
With some added padding this case will fit a Les Paul Junior, but it is not an automatic fit, for a better fit for an LP Junior uses the REC300RC.
The Tech Features
Brand: Artist
Model: LP400BK
Colour: Black
Material: PVC + Plywood
Internal Dimensions:
Length: 104 cm / 4015⁄16"
Body Length: 52 cm / 201⁄2"
Lower Bout Width: 34 cm /133⁄8"
Upper Bout Width: 24 cm / 97⁄16"
Depth: 10.5 cm / 41⁄8"
Suitable Guitars:
Les Paul Standard
Les Paul Custom
Belman Albatross
(16331)
Beautiful Quality Instrument

I am amazed at the quality finishing and beautiful tone of this guitar. Can't believe the value for money. I can't fault it





Artist Guitars Response
Thank you so much for the review and we're happy to hear that you're loving your new guitar.
Artist LP59CSB Deluxe LP December 2020

I've pitched this guitar against my EC-256 and have to say the LP59 is certainly up there at about half the cost and has the advantage of locking tuners. It's a heavy beast, as heavy as the Gibson 59 re-issues but worth it, the sustain lasts for days and the sound is great even on the split coils. It needed just minimal setup adjustment and that was largely because I changed the strings to 9's, it actually played quite well out of the box with its factory fitted 10's. Interestingly the truss rod key is exactly the same, and with the same plastic envelope, as the one from ESP/LTD which might be an indicator of the quality of components in the Artist guitars. Would recommend the LP59 to anyone. It's my first guitar from Artist and I'm already looking at another!
Guitar

Great LP type guitar.. look good.. Sounds great (even in split mode) .. & case good..
Exceptional value for the price

I've owned fenders for years and I decided I wanted to try a LP style guitar for the humbucker sound but I couldn't justify the spend on the real thing. I normally don't buy anything until I have played it but for the price I decided it was worth the risk. Wow, I am blown away by everything about it. It looks awesome, sounds even better, has a great feel, stays in tune and there is not one fret buzz on the whole board. The guitar case is top quality too. Really impressed!
Great product, really happy and impressed.

Bought a combo pack i.e. LP59CSB with Black hardcase. Plays, sounds and looks amazing. Can't doubt the quality and paddings of the hardcase. Had to do bit of intonation work, but rest was perfect out of the box. Moreover, didn't have any guitar with bridge having roller saddles; felt very comfy and stayed in tune while playing. Great product for the value. Good job Artist guitars.