Product Description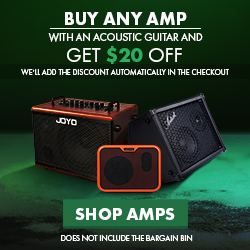 About this Artist JMZ200CEQ Solid Sitka Top Acoustic-Electric with Preamp
The Artist JMZ200CEQ is a great quality, solid-top acoustic guitar that looks, feels and sounds amazing. Featuring a solid Sitka Spruce top, Laminated Zebrawood back and sides, a captivating gloss finish and bevelled edges, this guitar won't disappoint.
The Sitka Spruce top generates a broad dynamic range, accomodating multiple different styles, from aggressive strumming to fingerpicking. As a guitar top, Sitka Spruce is the tonewood standard of the modern era. The zebrawood back and sides provide a fuller sound with darker tones.
As with all of our solid top range, it includes real bone nut for optimum tone transfer. The density of the bone gives the string a solid basis to vibrate against, whereas plastic nuts are often very soft and this can be a cause of tone loss.
The Fishman Presys II pre-amp and built-in chromatic tuner mean that you can plug this guitar in for live performance or recording.
The Tech Features
Brand: Artist
Model: JMZ200CEQ
Body Size: Full size
Overall Length: 41"
Woods:
Top - Solid Sitka Spruce
Back and Sides - Laminated Zebrawood
Fingerboard & Bridge - Laurel
Neck: 3 pieces Okoumen, 2 way Truss Rod, Scale Length 25.5", 42mm Bone Nut; 20-22mm Thickness
Fretboard: 20 Frets, Laurel ; 400mm Radius
Bridge: Laurel; 8.5mm Thickness
Strings: D'Addario EXP16
Preamp: Fishman Presys II
Optional Hard Case: FC350
Optional Gig Bags: HGBag42, Bag42
(16928)
JMZ200CEQ

I've had the JMZ200CEQ for six mouths. The acoustic tonal sounds just continue to get better and better, softer, sweeter and brighter all wrapped in together. Then when you plug in, the beast in these guitars really does come to life. The 'play-ability', fret action and feel of these guitars is as good as you will ever get for the price. For the record I own a Martin D35, Cole Clark FL2, Maton Messiah, Maton Natural and the JMZ200CEQ is as fun to play as any of those.





Artist Guitars Response
Thanks so much for your awesome review! We really appreciate the support. Please do not hesitate to reach out if you have any questions, we're always happy to help!
Wow what a great Guitar

I bought this Guitar for my Grandson who I've been teaching and fell in love with it my self it is so well made the wood and finish is beautiful not to mension the Fishman Presys II Pick up which is a Pre Amp as well. Unbelivable at this price. I did make one big improvement though I changed the strings from Dadario coated strings which sounded dull compaired to Ernie Ball Earthwood Phosphor Bronze extra light strings. Keep the good work up Guys.





Artist Guitars Response
We are glad to hear that you are happy with our product. Thank you for sharing this feedback with us!
Awesome looking and Sounding Guitar

The test of a supplier is how they fix problems and Artist really came through. The guitar arrived, but had really bad fret buzz on the first fret on the lower e & b strings, they were almost dead sounding. The rest of the guitar sounded great, so I was really keen to get another. Artist swapped it to a new one really quickly, which was perfect straight out of the Box. The guitar looks great, heaps of comments, but once you pick it up and play, the sound that comes out blows everyone away. I told my sons guitar teacher he was welcome to use it, when he comes over to give lessons, and he happily leaves his guitar home now. His comment when I offered was "yes please, any excuse to play this". The neck feels nice in hand and the action and intonation are spot on. Although disappointed when the first one had problems, the quick resolution and the end product made it worth the wait. I can't recommend this guitar highly enough





Artist Guitars Response
Thank you so much for your feedback. This means a lot to us. We're always here to assist you if you have any questions so feel free to reach out. Cheers!
JMZ200CEQ

Just received my guitar today, as usual I am very impressed, it looks and sounds a million dollars straight out of the box. Well done Artist, you never fail to impress me.





Artist Guitars Response
Thank you so much for the awesome review. We're stoked to hear that you're happy with your new guitar
Artist Acoustic-Electric Guitar

What an impressive looking acoustic guitar. With a built in pickup and on board tuner, it really is a magic guitar at a magic price. Well done Artist Guitars





Artist Guitars Response
Thanks a lot for your feedback on the guitar. This means a lot to us. We look forward to more business with you in the future. Cheers!