Product Description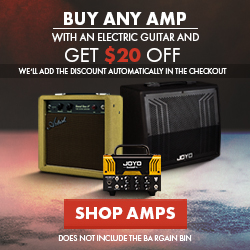 Artist Grungemaster - Electric Guitar with P90 Type Pickups
Our Artist GRUNGEMASTER was purpose-designed here at Artist Guitars to be a great 1st guitar to set you on your path of dirty riffs... it has a Poplar body, Canadian Maple Neck with Eco-Rosewood fretboard and plastic block shaped Inlays, two 'P90' styled Single Coil Ceramic Bar Pickups with a 3-way selector, Tune-O-Matic bridge with a Stop-Tail-Bar for greater stability, and Die-cast Chrome Machine Head tuners.
The Tech Features
Brand: Artist
Model: GRUNGEMASTER
Neck: 25.5 inches Scale Length, Canadian Maple Bolt-On Neck, Truss Rod, 21 Frets, Eco-Rosewood Fretboard with 'Block' shaped plastic Inlays.
Fingerboard Radius: 12" (305mm)

Body: Poplar with Tortoiseshell scratchplate
Machine Heads: Die-cast Chrome
Bridge: Chrome coloured tune-o-matic style, with 'Stop-Bar' anchor.
Pickups:
Cream coloured soapbar covered 'P90' type pickups, ceramic bar magnet.
Neck - M-90N 7.8K 5.2H
Bridge - M-90B 9.2K 6.2H
Controls: 1 x Volume, 1 x Tone and a 3-way switch
Colour: White
Neck Profile:
Scale: 25.5" (648mm)
Nut Width: 42mm (1 10/16")
1st fret Thickness: 21mm (13/16")
Shape: Modern D
Dimensions: 1035mm x 540mm x 85mm, 40 3/4" x 21 1/4" x 3 3/8"
Optional Extras to fit this Guitar:
Weight: 3kg - 3.5kg approx, 7lb 11.5 oz
(12323)
Exceptional

Near perfect. Ever so slight fret sprout, that's it. Good setup. Straight neck. Brilliant pickups. Surprisingly it's not just white, it's a metallic white. Can't praise it enough. The manufacturer takes great pride in it's work I feel.





Artist Guitars Response
Thank you so much for sharing this with us. We really appreciate the support!
Grungemaster

This is my second guitar from Artist Guitars. I was not disappointed. Great quality guitar.





Artist Guitars Response
Thank you so much for taking the time to leave this feedback! We really appreciate your support!
First electric guitar!

I was an acoustic lover for years, but I recently got into Electric. This was my FIRST EVER electric guitar and I was blown away. It sounds beautiful and I was able to play a few different styles on it. It has a contoured body which makes it so much more comfortable to hold. The quality of this guitar is insane considering the price and it looks beautiful





Artist Guitars Response
Thank you so much for taking the time to leave this feedback! We really appreciate your support!
Not just the Master of Grunge

I just don't know what to say about this guitar, it's bloody incredible. Currently this is my 6th (3rd Artist) guitar but since I bought the Grungemaster I hardly pick the others up. This guitar can do anything, from subtle, twangy or tuneful sounds, right up to full rollicking rock! I'm not any kind of expert on such things but these P-90 pick ups can also make you feel like some rock God! Then you have the looks of this machine. I was very wary of getting a white guitar but even just opening the box it's beautiful and carries the colour great. The weights great, parts great, holds tune all day long, then you have them soap bar P-90s, wow! I've never had an "offset" guitar before but I know they can be neck heavy, well writing this review is the first this subject has come up for me and this guitar because if it exists it must be small. This is just beautiful all round and a huge surprise how good it is. As well as all the above the main thing is this guitar is great fun! You can play it soft and subtle or really go to town on it with no adverse effects. I honestly cannot recommend this enough, it's suitable for everyone from my granny to mad uncle Alf to my indie niece Lou. Oh yeah, me as well, I love it!





Artist Guitars Response
Thank you so much for your rocking review! We're happy to know that the Grungemaster continues to blow you way. Cheers!
Excellent Value for Money!

I received this guitar as a birthday present about a month ago, haven't put it down since. This is my third Artist guitar and i can say with confidence that like my LP59 and 335 it does not disappoint. Light weight, simple controls and great P90 like pickups for them alt rock grungey tones. The fret board and frets are nicely done for a guitar in this price range and the finish is comparable to the more expensive Squire options. This also has a satiny finish to the neck which i really like too. QC is great across all 3 of my guitars and I'm very pleased with my Artist Guitars collection. Highly recommended for those looking for a good low cost option from an Aussie owned company. Thankyou





Artist Guitars Response
Thanks so much for all the support and for this awesome review. Cheers!