Product Description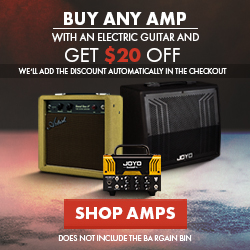 Buy as a Pack And Save!
This pack includes:
1 x Artist GNOSIS6 Blue Cloud Super ST Style Electric Guitar
1 x Artist REC300RC Black Electric Guitar Hard Case With Lock
GNOSIS-6 guitar, built for everything from Jazz and Rock to Hardcore and Metal music
The Gnosis is an adaptable, multifaceted and functional modern instrument. It has modern appointments to suit everyone from beginners to the most dextrous shredders.
This style of electric guitar is loved by Hard Rock and Heavy Metal Guitarists and has become a classic icon of that genre. Since the early 2000s, the popularity of this style of guitar has surged, becoming the favoured guitar for the modern 'Hardcore' music movement. Bands like Periphery, Park Way Drive and I Killed the Prom Queen have made this style of guitar their go-to axe when wailing in that all-out crushing tone demanded from open LOW-Tuned music. Now... it's YOUR turn.
Our Artist GNOSIS6 (pronounced 'know-sis') is a versatile 6-String with an all Maple Neck, Poplar Body with Quilted Maple Veneer, Eco-Rosewood Fretboard, 24 frets with 'DOT'-shaped plastic inlays, and a SET-NECK. It has easy high-neck access and is set off by a tunomatic bridge and string-thru-body. It is designed with your need to achieve ultimate sustain and it delivers! This guitar plays fast with a speedy neck, and maintains tight low-end frequencies so it's great for thick warm tones, and heavy drop-tuned chugging alike.
It also has a special combination of two Medium-High output Humbuckers. This means that you can switch from fluid Neck Pickup solo runs and warm clean sounds to the more crunchy rhythms and shred guitar solos on the impressive Bridge Pickup.
The Tech Features
Brand: Artist
Model: GNOSIS-6
Neck: Maple Set-Neck, Truss Rod, 25 1/2", 648mm Scale Length, 24 Frets, Purple Heart Fretboard with 'DOT' shaped plastic Inlays.
Fingerboard Radius: 12" (305mm)
Nut: ABS
Body: Poplar with Quilted Maple Veneer
Machine Heads: Die-cast Black Chrome
Bridge: Black tune-o-matic style, with String-Thru-Body ferrule ports.
Pickups: Neck: Ceramic Bar, D.C. Resistance: 7.2K, Black Bobbins
Bridge: Ceramic Bar, D.C. Resistance: 16K, Black Bobbins
Controls: 1 x Volume, 1 x Tone and a 3-way switch
Colour: Blue Cloud
Dimensions: 1035mm x 540mm x 85mm, 40 3/4" x 21 1/4", 3 3/8"
Optional Hard Cases: REC300RC, REC350BK, REC350FTB, EC500
Optional Gig Bag: HGBAGST, BAGST
Weight: 3.3-3.6kg approx. 7lb 12oz
Artist REC300RC Black Electric Guitar Hard Case With Lock and Rounded Corners
This sturdy guitar hard case will suit most electric guitars like Strat's, Tele's and many other similar models. Its a sturdy decent quality guitar case.
Electric Guitars that will fit this case - Les Paul Junior, Strat's, Tele's, Jazzmasters and Jaguars, RG Style Ibanez, Super Strats like Jackson Soloist, Artist AG1, AG100, SGRD & SGBK (these differ in shape to the genuine SG's). It will also fit our Artist PB34 3/4 Bass.
Electric Guitars that will NOT fit this case- Genuine Gibson & Epiphone SG's, Flying V's, Explorers, Dean ML & ZL, BC Rich or PRS
If you're not sure if your model will fit just email us with the brand and model and we will let you know the most suitable case we stock.
Made from strong laminate wood and covered in a thick vinyl covering. It's plush lined and comes with a large accessories compartment for storing all your leads, pedals, spare strings and accessories. The latches are chrome and the centre latch has a lock.
We have one of the largest ranges of guitar cases, so if this doesn't suit your model check out our other models, or contact us with the Brand and Model of your guitar so we can advise the correct model from our range.
The Tech Features
Model: REC300RC
Colour: Black
Weight: 5 Kg. / 11 lb and 0.4 oz
Material: PVC + Plywood
Internal Dimensions:
Total Length: 105cm / 415⁄16"
Body Length: 52cm / 201⁄2"2020inches
Width: 34cm / 133⁄8"inches
Depth: 7cm / 23⁄4"
(15690)
This guitar is Amazing!

Just got the guitar and I had a play with it, it is an amazing guitar and plays beautifully,I absolutely love it and I am very happy with this guitar





Artist Guitars Response
We are stoked to hear this and thank you so much for the support!
Amazing Guitar

Received 20 SEP 2021 Wow what a awesome guitar plays great looks amazing very happy with my purchase .





Artist Guitars Response
Thank you so much and we are stoked to hear that you like the guitar!
ROCK ON!!!

Just received my GNOSIS6 Blue Cloud. I went for the fixed bridge. This is my 2nd Artist guitar. I also have the TC59. I wouldn't have bought the GNOSIS6 if the TC59 wasn't any good POSITIVES: Out of the box the blue cloud top really took my attention. Looks so much better than on a computer screen. The headstock is an amazing shape. It was intonated correctly and only needed a minor twist of the tuning pegs to get this thing ready to go. The pickups are HOT and I love them. The bridge has typical hard rock bite. The neck is much softer tonally as you would expect. Harmonics are easy to enduce. Frets are well done. No sharp edges. No bends bottoming out. It is very light. Especially when compared to my Artist TC59. The pickup selector switch and pots are really solid. It was shipped really quickly even given the COVID delays, and the packaging was excellent. It has fingerboard binding which I didn't expect. THINGS TO IMPROVE ON: The tuning pegs are plastic. They feel like they will last but this is something I've never seen. I guess given the guitar is AUD$249, it is hard to be too picky. They can always be changed out. I wish they had put their locking tuners on the guitar. The fretboard is extremely dry. I mean really dry. When I change the strings this will need some lemon oil. The pots don't have an even sweep. You have to turn the volume pot down to about halfway before anything starts to happen. Overall, for $249, this thing is amazing. When you pick it up, it transports you to the 80's, your hair magically grows into a big blonde afro, tight leather pants hold you in and all you wanna do is scream out "HELLO CLEVELAND!!!". Now to buy an Artist Brownburst 58 X Anniversary semi hollow to calm me down a bit.





Artist Guitars Response
Thanks for this review, I'm really glad you're happy with this guitar. Did you bring your own leather pants? I don't think they come standard with every order...
Artist Gnosis guitar

I've got it for a couple of months now, and it plays amazing, this is my second artist guitar and I'm always mind blown by how good they sound for very little money. Thanks artist guitars for making all these wonderful guitars.





Artist Guitars Response
Thank you so much for the feedback. We really appreciate the support!
Good things come in small packages

I'm still scratching my head as to how you can do this guitar for the price. It punches well above it's weight. Plays as well as guitars I have in the $1000 plus range. The binding is perfect with no bleeding, zero fret sprout, decent tuning heads, really good nut, and it came really well set up out of the box! A beginner could easily start playing this guitar. I lowered the action just a little to suit my style and NO fret buzz! Unscrewed the back plate to take a peek and it's foil covered and the cavity has a ton of sound shielding!! Dime pots and a little capacitor but they do the job nicely. Plenty of room for upgrades as the humbuckers are wired for coil splitting!. Speaking of the humbuckers they are amazing. The guitar plays like a Les Paul, the neck pickup is lovely and warm while the bridge pickup is clear and bright. This Gnosis plays better than my $650 Ibanez. Sounds better too. The straight through neck is brilliant, feels so good! The blue is amazing and buffed to a superior sheen. My list of gripes are small, small chip in the clear coat near the toggle switch that is barely noticeable and the packaging it comes in is cheap and flimsy. Definitely keeping this one. Playing it through one of your 5 watt valve amps with a T-Rex Fat Shuga reverb pedal gives it all the bluesy feel I want and when I want to get a little hard core the Boss SD-1 loves this thing too!. Hats off to you guys, great job on this one.





Artist Guitars Response
Thank you so much for your review and we're glad to know that Gnosis6 has blown you away