Product Description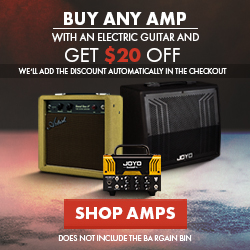 Artist CHERRY58TRD Semi-Hollow Electric Guitar
This classic style guitar has existed in many forms since it was first released in 1958. Since then it has been coveted by some of the greatest Rock 'n Roll, Blues, and Jazz guitarists that the world has ever known. Legendary names like BB King, Freddie King, John McLaughlin, Larry Carlton, Jorma Kaukonen, Eric Clapton, and Elvin Bishop are among the multitude of players who have loved the diverse tones that this type of instrument offers. Now it's your turn!
The Artist Cherry58 offers a perfect entry-level guitar for those wishing to begin their journey into the world of blues and Jazz. With the typical set-neck, this guitar is truly a "blues machine". Like the body, the neck is constructed of maple on an eco-friendly Eco-Rosewood fretboard. This wood is a fine substitute for rosewood which is now considered a highly endangered species and as a result is rarely if ever used in general guitar building these days. The 22 frets show off the 'Dot' shaped plastic inlays and when you add to the comfortable "C" shape neck the standard tune-o-Matic bridge and stop-bar tailpiece, you have a guitar that will not only feel great under your fingers but one that will sustain forever.
The Cherry58 sports chrome-covered Humbuckers with Alnico V magnets which means that you have the option of the warm throaty tones of the neck pickup or the biting clean sounds of the bridge pickup. When you set your toggle switch in between neck and bridge pickup you get that wonderful almost out of phase sound which confirms that this is an extremely versatile guitar that will be very responsive under your fingers. You will be able to put a stamp on all those great blues solos and wail like the greats or you could darken the tone to suit the "cool" of any dingy little jazz club.
The Cherry58 awaits. Are you ready to take it on?
Here are the reasons why this guitar is great:

It has a Low String Action (all our guitars are set-up at the factory for the optimum beginner playing level). String action is the measurement from the top of the 12th fret to the bottom of the string. This is very important because a guitar with a high action is hard to play, a guitar with too low an action will buzz and sound bad. Artist Guitars are set up at the factory for the optimum level for a beginner.

Die-cast Machine Heads - This means your guitar will tune quicker, be more stable, and stay in tune longer.

We include a range of Support Materials including how to tune, how to read tab, basic chord shapes, and much more.

Our price is always Lower Than a Retail Store (often by 30-40%) we keep our prices low by only selling our own range of guitars direct from the factory. Our business is built on offering a great value guitar at a great price.

Artist Guitars has been designing guitars for over 10 years and during this time we have developed a great working relationship with our factories to constantly improve the quality and value - we know how to get a great value guitar at a truly unbeatable price!
We are so confident you will love your new Artist Guitar that we offer you:
100 Days 100% Money Back Guarantee, and 3 Year Warranty
Check out our excellent feedback rating on eBay for what our customers' reactions are.
The Tech Features
Brand: Artist
Model: Cherry58 TRD
Construction: Semi-Hollow
Wood:
Body: Maple
Neck: Maple
Fretboard: Eco-Rosewood
Center Block: Mahogany
Nut:
Material: Bone
Width: 43 mm / 111⁄16"
Bridge: Chrome Tune-o-Matic style, with 'Stop-Bar' anchor
Neck Profile:
Scale Length: 243⁄4" / 628 mm
Radius: 12" / 305 mm
Shape: Modern C
Number of Frets: 22
Fret Inlay: Dot
Pickups: VLPA Humbuckers
Controls: 2 x Volume, 2 x Tone, 3-way Switch
Machine Heads: Die-cast Chrome
Strings: 10-46 Gauge Electric Guitar Strings
Finish: Cherry Red
Weight: 3.5 to 4 Kg / 7 lb and 11.5 oz to 8 lb and 13.1 oz (Approximate)
Optional Hardcase: JC450
(16211)
Value for money

Purchase as a factory second, I was nervous about the quality that I would recieve. On arrival I struggled to find and marks or blemishes. Was ready to play straight out of the box. Great sound and feel.





Artist Guitars Response
Thank you so much! If you need anything, please don't hesitate to contact us. Cheers!
A beautiful guitar at an incredible price.

My wife bought me a CHERRY58 with a hard case for Christmas. On Christmas Day I opened it & I was amazed at what a great guitar it is in all respects. The build quality was fantastic, the sound, action & intonation were perfect. I've been playing guitar for many years & own a number of other guitars including Fender, Gretsch, Ibanez & Ovation. My new CHERRY58 compares well with all of them.





Artist Guitars Response
We really appreciate it for taking the time to leave a review and glad to know that you are satisfied with our products and services.
Very impressed

Having read the reviews of the guitar I decided to purchase this guitar and was skeptical of how good it could be given your looking at 1000 to get a 335 style guitar from anywhere else. The guitar arrived within a couple of days during the week leading up to Christmas and came well Setup with a low action and perfect intonation only thing that needed adjusting was one of the pick guard screws that needed tightening. Highly recommend getting one to anyone looking for a 335 style guitar.





Artist Guitars Response
We are glad to hear that you are happy with the guitar. We thank you for the review and your recommendation.
Artist CHERRY58

Brought this guitar after reading the reviews and it came within a week. Great looking guitar and played ok out of the box, but needed a bit of work to get it to a better playing guitar. Had the bridge replaced as the one installed was not up to scratch (lots of rattles), so with a new (Grover) bridge, setup and new strings plays like a good guitar should. For the price bracket these are good, but it will cost you a bit to make it a very good guitar. I'm very happy with mine now with the mods and setup.





Artist Guitars Response
Thank you so much for this feedback. This will help us improve our products and services. If you need any help with the guitar, please feel free to reach out to us.
CHERRY58 TRD Semi Hollow Electric Guitar

It's magnificent. It's a dream come true a fabulous hollow guitar at an excellent price! Highly suggest it





Artist Guitars Response
We are glad to hear you like the Cherry58. We really appreciate your support!