Product Description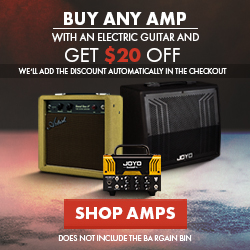 Artist LP59TRB Deluxe Electric Guitar Translucent Black + Bullbuckers
The Artist LP59TRB guitar is our top of the line guitar whether it be for gigging or recording and is definitely one of the best guitars on the market in relation to quality and price. This guitar has a great rock/ blues sound that easily produces that big fat fluid sound so typical of any good quality guitar.
The body consists of a 5A grade flame maple veneer top that is finished off with a single-ply cream binding over a carved poplar cap and a back of solid African mahogany. The plain sawn set neck is made of mahogany and has an eco-rosewood fretboard. The 22 fret neck is a comfortable "C" shape with trapezoid mother of pearl inlaid into the eco-rosewood fretboard. With the typical 24.75" scale length you are sure to bend notes as well as any blues or rock player going around.
The guitar is finished with an impressive Translucent Black while the back is a black polyurethane finish. The deluxe hardware consists of chrome locking tuners, lock-down-post Tune-O-Matic bridge with nickel saddles, and an aluminium Stop Tailpiece.
The Pickups we use on our LP59TRB are our signature Artist Bullbucker Pickups with Nickel Silver covers. The pickups on this model are COIL SPLITTING. They have a creamy smooth 'flute-like' sound on the neck pickup while the bridge pickup breaks up nicely with no harsh upper mids. They are both vintage-moderate output pickups. An added feature is that both pickups offer coil splitting which guarantees that this guitar will deliver a wide range of tonal options.
We also use the best electronic parts to reproduce the classic wiring configuration. 2 Volume and 2 Tone Control, standard 3-way toggle switch, Japanese Split Brass Shaft 500K Pots, 0.022uF,400V ceramic capacitors, and 1/4" Input Jack.
The factory strings are standard D'Addario EXL110 strings.
The Tech Features
Brand: Artist
Model: LP59TRB
Body:
5A Flame Maple Veneer over poplar cap
Single cutaway
African Mahogany Back
Single-ply cream binding on body top
Neck:
Fingerboard: One-piece plain-sawn, Set-in, Eco-Rosewood with single cream binding
Trapezoid Mother of Pearl Fingerboard Inlays
12" (305mm) Fingerboard Radius
22 frets
Bone Nut 1 11/16" wide
24.75" Scale
"C" shaped

Finish:
Translucent Black with Polyurethane Finish.
Hardware:
Nickel Chrome Plated Parts
D-Style Locking Tuners
Lock-down-post Tune-O-Matic Bridge with brass saddles
Aluminum Stop Tailpiece,
Gold top-hat ("bonnet") shape knobs

Pickups:
2 x Bullbucker Pickups with Coil Splits
2x Volume and 2x Tone Control, 3 Way Toggle Switch, (Split Coil Push-Pull)
Japanese Split Brass Shaft 500K Pots,
0.022uF,400V Ceramic capacitors,
Chinese 'switchcraft' style 1/4" Input Jack.
Weight: 3.5kg - 4.2kg approx.
Optional Hardcases: LP400BK, LP500BR
Optional Gig Bags: HGBAGST, BAGST
(16157)
LP59TRB Deluxe Electric Guitar

I have just received my LP59TRB Electric Guitar on time and was pleasantly surprised with a few minor inclusions which I did not order or expect. Thankyou to the Team at Artist Guitars. I do not perform on stage but enjoy creating my own music and generally playing with a few other musician friends. The guitar has exceeded my expectations with sound and output quality that makes playing so much more enjoyable. I am yet learning the various functions of the guitar and thanks to the Artist Web site this is also a very enjoyable experience. Once again thanks you to the team at Artist. Great work. I will be sure to shop in your store going forward.





Artist Guitars Response
Thank you very much for a great review on the guitar. We are happy to hear that you are enjoying the guitar.
My first Artist Guitar

After reading through heaps of reviews here on the Artist website and on the internet about Artist guitars and the company behind it I decided to give it a go and order this guitar. I have to say that it wasn't my first instrument from Artist Guitars and I had already seen proof of the high quality of their products. This and the "Free return" guarantee made it easier for me to give it a try and choose a top level instrument from the Artist range. Well, my expectations were definitely met. I ordered the Translucient LP59 with a hard case. I think it's a must for a beautiful instrument to keep it safe over time. The case was better than expected and can compete with any other more expensive product out there without problems. But I was more interested in what's in the case. What can I say? This LP style guitar is an absolute killer. I think I just held it in my hands and turned it around and around for at least 15 minutes when I got it out of the case. Beautifully crafted and a flawless body. The pictures on the Artist website don't do the actual product any justice. The burst is simply beautiful and you just want to get this guitar out of the case and play it because of the looks. There is a bit of residue on the fretboard but I'll just remove that when I do the first setup on this guitar. I have been playing this guitar now for the last four weeks and I'm still amazed by the beautiful sound and high quality. It's so easy to play that it's the usually the first one that I take out of the case when I start practising. Coil splitting works nicely. But I prefer the Humbucker sound. Mostly I play in clear mode as the sound is just beautiful. It's perfect for jazz but it's as versatile as you'd expect from an LP style guitar - from Christmas carols to Rock and Metal - it just delivers. The out of the box setup was acceptable and I only adjusted the bridge slightly after a few days. The tuners hold nicely and the hardware on this guitar matches the beautiful crafted body. I think though that I'll give it a proper setup some time soon and lower the nut a bit as the strings are sitting a bit high for my taste. But that's a personal thing I guess. Can I recommend this guitar? Absolutely and 100%. It feels and looks better than many alternatives with much higher price points out there and most important it's really fun to play.





Artist Guitars Response
We are stoked at your awesome review! Thank you so much for the support. Please do not hesitate to reach out if you have any questions, we are always happy to help!
Best single cut out there

I have played a lot of single cut humbucker guitars and have owned guitars 5 times the price of this one. This is my favourite. You won't regret getting it. Excellent guitar. And crazy price for what you get.





Artist Guitars Response
Thank you so much for taking the time to share this feedback. We really appreciate the support!
A really good LP style

I bought this guitar after comparing specifications with other, well known, brands and liked the starting point. Received it after waiting for restock, a week earlier than expected, and absolutely loved the look and feel in my hands. My very first guitar 30 years ago was a low cost LP style but what a piece of junk. So I was looking for anything to criticise the black beauty. All I can come up with are the frets need a light sanding to remove file marks on the tops. Early days yet but still loving it.





Artist Guitars Response
Thank you for the review. We're happy that you're satisfied with your order. Cheers.
Excellent Value LP

Very happy with the purchase. Great guitar and quality design for the price tag. Free delivery a win too! Beautiful appearance, labelled as transparent black but the colour appears blue to aqua green also depending on the light. The humbuckers have a warm and bright tone. Order was dispatched the next day after purchasing and arrived faster than expected by courier. Only things I could fault was one of the strap locks was very loose but was easily tightened myself with a screwdriver. The is a round blue sticker on the back of the headstock which is not easily removable.





Artist Guitars Response
Thanks for the review of the guitar. We are glad that you like the guitar. If there would be cases that you would have issues or concerns about an order, please do not hesitate to let us know right away. We would be more than happy to assist.