Product Description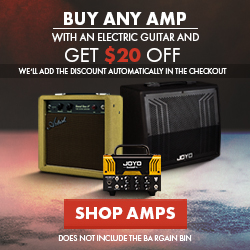 Artist LP59TRB Deluxe Electric Guitar Translucent Black + Bullbuckers
The Artist LP59TRB guitar is our top of the line guitar whether it be for gigging or recording and is definitely one of the best guitars on the market in relation to quality and price. This guitar has a great rock/ blues sound that easily produces that big fat fluid sound so typical of any good quality guitar.
The body consists of a AAA grade veneer top that is finished off with a single-ply cream binding over carved maple and a back of solid mahogany. The plain sawn set neck is made of mahogany and has an eco-rosewood fretboard. The 22 fret neck is a comfortable "C" shape with trapezoid mother of pearl inlaid into the eco-rosewood fretboard. With the typical 24.75" scale length you are sure to bend notes as well as any blues or rock player going around.
The guitar is finished with an impressive Translucent Black while the back is a black polyurethane finish. The deluxe hardware consists of chrome locking tuners, lock-down-post Tune-O-Matic bridge with nickel saddles, and an aluminium Stop Tailpiece.
The Pickups we use on our LP59TRB are our signature Artist Bullbucker Pickups with Nickel Silver covers. The pickups on this model are COIL SPLITTING. They have a creamy smooth 'flute-like' sound on the neck pickup while the bridge pickup breaks up nicely with no harsh upper mids. They are both vintage-moderate output pickups. An added feature is that both pickups offer coil splitting which guarantees that this guitar will deliver a wide range of tonal options.
We also use the best electronic parts to reproduce the classic wiring configuration. 2 Volume and 2 Tone Control, standard 3-way toggle switch, Japanese Split Brass Shaft 500K Pots, 0.022uF,400V ceramic capacitors, and 1/4" Input Jack.
The factory strings are standard D'Addario EXL110 strings.
The Tech Features
Brand: Artist
Model: LP59TRB
Body:
Two pieces AAA Flamed(tiger stripe) Veneer on top of Carved Maple Top.
Single cutaway
Mahogany Back
Single-ply cream binding on body top
Neck:
Fingerboard: One-piece plain-sawn, Set-in, Eco-Rosewood with single cream binding
Trapezoid Mother of Pearl Fingerboard Inlays
12" (305mm) Fingerboard Radius
22 frets
Bone Nut 1 11/16" wide
24.75" Scale
"C" shaped

Finish:
Translucent Black with Polyurethane Finish.
Hardware:
Nickel Chrome Plated Parts
D-Style Locking Tuners
Lock-down-post Tune-O-Matic Bridge with brass saddles
Aluminum Stop Tailpiece,
Gold top-hat ("bonnet") shape knobs

Pickups:
2 x Bullbucker Pickups with Coil Splits
2x Volume and 2x Tone Control, 3 Way Toggle Switch, (Split Coil Push-Pull)
Japanese Split Brass Shaft 500K Pots,
0.022uF,400V Ceramic capacitors,
Chinese 'switchcraft' style 1/4" Input Jack.
Weight: 4kg - 4.6kg approx.
Optional Hardcases: LP400BK, LP500BR
Optional Gig Bags: HGBAGST, BAGST
(16157)
A really good LP style

I bought this guitar after comparing specifications with other, well known, brands and liked the starting point. Received it after waiting for restock, a week earlier than expected, and absolutely loved the look and feel in my hands. My very first guitar 30 years ago was a low cost LP style but what a piece of junk. So I was looking for anything to criticise the black beauty. All I can come up with are the frets need a light sanding to remove file marks on the tops. Early days yet but still loving it.





Artist Guitars Response
Thank you for the review. We're happy that you're satisfied with your order. Cheers.
Excellent Value LP

Very happy with the purchase. Great guitar and quality design for the price tag. Free delivery a win too! Beautiful appearance, labelled as transparent black but the colour appears blue to aqua green also depending on the light. The humbuckers have a warm and bright tone. Order was dispatched the next day after purchasing and arrived faster than expected by courier. Only things I could fault was one of the strap locks was very loose but was easily tightened myself with a screwdriver. The is a round blue sticker on the back of the headstock which is not easily removable.





Artist Guitars Response
Thanks for the review of the guitar. We are glad that you like the guitar. If there would be cases that you would have issues or concerns about an order, please do not hesitate to let us know right away. We would be more than happy to assist.
Good Quality and Great Customer support

Received my first order one week before Christmas and it had some minor issues , contacted the Artist guitar support team and I have immediately been offered to choose a refund or replacement , which I decided to go with a replacement. Received the second guitar 2 weeks ago and here is my brief review of 2 weeks with this beauty : 1. Finish and look : it looks gorgeous ,I mean my Ibanez RG350 and my fender Strat both look so cheap next to this! 2. adjustments out of the box : it needed some adjustment , including action adjustments , quarter of a turn on truss rod , and of course intonation. 3. How it plays and sounds : it plays easy after adjustments I mentioned, and man! these bullbuckers are great ! they sound fantastic, they give you a full , rich sound you expect from a high end LP as well as the option of going single coil with push-pull knobs on both pickups , this is fantastic and can only be found in much higher price range guitars. these are my initial impressions and feedback after 2 weeks , I will update this ( if I am allowed ) within 2-3 months to provide more in-depth feedback of this Guitar.
Excellent value for money - buy this NOW!

Great bang for buck. Out of box it needed some setting up for personal taste, but otherwise completely playable. Build quality is outstanding. Thoroughly recommended!
Solid guitar in every sense of the word

There are some great things about this guitar - the flame top looks fantastic, the locking tuners are a bonus and a rarity at this price point. I had some problems with quality control like one volume knob turning further than it should but everything works fine. The pickups are decent. The biggest issue for me is its weight, the body seems entirely solid as mine weighs about 4.5kg. This could be a dealbreaker for some but otherwise it's a total bang-for-your buck guitar.