Product Description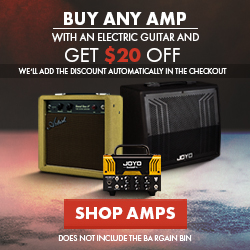 Artist GM1TSB Grungemaster Electric Guitar Vintage Sunburst
Our Artist GRUNGEMASTER was purposely designed here at Artist Guitars to be a great 1st guitar to set you on your path of dirty riffs... it has a Poplar body, a Maple Neck with Eco-Rosewood fretboard and plastic block-shaped Inlays, two 'P90' styled Single Coil Ceramic Bar Pickups with a 3-way selector, Tune-O-Matic bridge with a Stop-Tail-Bar for greater stability, and Die-cast Chrome Machine Head tuners.
The Tech Features
Brand: Artist
Model: GM1TSB
Neck: 251⁄2" / 648 mm scale Maple Bolt-On Neck, Truss Rod
Fretboard: 21 Frets, Eco-Rosewood Fretboard with 'Block' shaped plastic Inlays
Body: Poplar with a Tortoiseshell scratchplate
Machine Heads: Die-cast Chrome
Bridge: Chrome coloured tune-o-Matic style, with 'Stop-Bar' anchor.
Pickups: Cream coloured soap bar covered 'P90' type pickups, ceramic bar magnet.
Neck - M-90N 7.8K 5.2H
Bridge - M-90B 9.2K 6.2H
Controls: 1 x Volume, 1 x Tone and a 3-way switch
Strings: 10-46 Gauge Electric Guitar Strings
Neck Profile:
Scale: 251⁄2" / 648mm
Nut: 42 mm / 15⁄8" ABS Plastic Nut
1st fret Thickness: 21mm / 13⁄16 "
Shape: Modern D
Fretboard Radius: 12" / 305 mm
Colour: Vintage Sunburst
Dimensions: 103.5 cm x 54 cm x 8.5 cm / 403⁄4" x 211⁄4" x 33⁄8"
Weight: 3kg - 3.5kg / 6 lb and 9.8 oz - 7 lb and 11.4 oz approximate
Optional Hard Cases: REC300RC, REC350FTB, REC350BK
Optional Gig Bags: HGBAGST, BAGST
(16409)
Amazing customer service.

My Grungemaster arrived super quick, but the box was all beaten up and there was a small ding on the headstock. The Sales Rep gave me a 10% discount and sent the photos to the courier. This all happened at around 9pm too. The Grungemaster is so much fun to play and sounds so alive. And since it's so cheap, I don't mind my 4 year old having a strum and a hit. So glad I took a punt on it.





Artist Guitars Response
We're sorry to hear about the slight damage on the headstock during transit but we're happy to know that the team was able to sort this out for you asap. Cheers
GM1TSB Grungemaster

This baby really lives up to its name. Great playability straight out of the box with superb build quality and just oozes class. The P90 style pickups on this beauty make it sound like a strat on steroids. Fantastic tone and sustain, excellent note definition/ clarity, comfortable weight and feel. The neck is great and whether its plugged into my Plexi, DSL100, JCM800. Vox Mini Superbeetle or Peavey Classic 30 this guitar sounds amazing. I highly recommend Artist /guitars to anyone I know. I own 12 of their guitars.





Artist Guitars Response
Thank you so much Graham! I am flabbergasted by the support you have given us. Cheers!
TSB Grungemaster

Absolutely one of the best put-together instruments I've played, for a very affordable price. Wide range of tones from the twin p90s, and it would be very easy for a beginner to pick up and play, with no setup needed out of the box besides tuning. It also arrived ahead of the estimated date I was given. This is my 4th guitar from Artist and I always recommend them if someone mentions an interest in picking up the instrument.