Product Description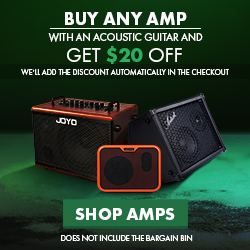 Buy as a Pack And Save!
This pack includes:
1 x Artist DCA100CEQ Solid Top Dreadnought Acoustic Electric Guitar
1 x Artist DC350FTB Tweed Acoustic 6/12 String Dreadnought Guitar Hard Case
Artist DCA100CEQ Solid Top Dreadnought Acoustic Electric Guitar
The DCA100CEQ has a Solid Cedar Top and Ash(laminated) back and sides with a beautiful satin finish. It's a standard dreadnought sized guitar with cut-away.

The Cedar top gives it a warm balanced sound that doesn't get too harsh, as with all of our solid top range it includes real bone nut & saddle for the ultimate in tone transfer. The hardness of the bone gives the string a solid basis to vibrate against plastic nuts are often very soft and this can be a cause of tone loss.

The Fishman Presys pre-amp with built-in chromatic tuner means that you can plug this guitar in for live performance or recording.
The Tech Features
Brand: Artist
Model: DCA100CEQ
Body Size: Full size 41" Dreadnought with cut-away
Woods:
Top - Solid Cedar
Back and Sides - Laminated Ash
Fingerboard & Bridge - Solid Eco-Rosewood

Machine Heads: High Quality 18:1 Chrome Die-cast
Neck: Volute to protect the head stock, 2 way Truss Rod, Scale Length 25.5", 43mm Bone Nut
Decoration: Wooden Inlay rosette, Ebony bound Top, Back stripe
Included Accessories: Fishman Presys Pre-amp with Built-in Chromatic Tuner, Neck adjustment Allen key, D'addario EXP16 strings on the guitar, Real Bone nut and Saddle, 2 Strap pins (built into the guitar)
Colour: Satin Natural
Optional Extras to fit this Guitar:
Hard Cases - DC300, DC350TO or WC450
Bags - BAG42, HGBAG42
Artist DC350FTB Tweed Acoustic 6/12 String Dreadnought Guitar Hard Case
This Hard Case will fit a Dreadnought Acoustic Guitar (6 string or 12 string) and keep it safe and sound (if you're not sure if your guitar is a dreadnought just email us the brand and model and we can check for you), It has sturdy wooden construction with a lockable Latch (the key is inside the case). It has a great little compartment for all your accessories and spare strings. Tweed PVC, Wine Red Plush, Padding Handle, Brown PVC Binding with Silver Stitching and Golden Latches.
The Tech Features
Brand: Artist
Model: DC350TO
Suits: 6 or 12 String Dreadnought Acoustic Guitar
Material: PVC + Plywood
Outside: Tweed look Vinyl
Inside: 12mm / 43⁄4" Wine Red Plush
Fixings: 3 x Hinges, 4 x Gold Latches (1 Lockable)
Internal Dimensions:
Length: 112 cm / 441⁄16"
Body Length: 59 cm / 231⁄4"
Width - Lower Bout: 42 cm / 169⁄16"
Width- Upper Bout: 32.5 cm / 1213⁄16"
Depth: 14.5 cm / 511⁄16"
Weight: 4.6 Kg / 10 lb and 2.3 oz
(15587)
Amazing value and sounds even better

Ordered Thursday arrived Monday. Best thing about this was I kept checking aus post app to see when they would process the order and went to check this morning and it was already at the post office. Now to the actual guitar. I opened the box before I got home and checked the body in direct sunlight for about twenty minutes and could not find anything wrong with it. First thing I did notice was how beautiful this guitar looks. I own a Yamaha and this felt better in my hands. Great weight to it without being too heavy. I've been playing it now for about two hours trying to find a fault with it and I can't. All I will say is give Artist guitars a go and if you don't feel how I do then you can return it. This is the second guitar I have purchased from them the first being a electric and I now have my eyes on one of the full solid wood models as I am that impressed. Pre amp works fine and man this cedar top sounds warm and loud without being plugged in. 11 out of 5 stars from me.





Artist Guitars Response
Thank you so much for taking the time to share this feedback. We really appreciate the support!
They only thing wrong with this guitar ...

Is that I purchased before the sale. This is my second artist, the first being from the beginners range for a left hand model [due to an injury]. I have never owned a quality acoustic, but have played a Maton for many hours as well as Ibanez, Yamaha etc, and having played my lefty for nearly 3 years I thought it was time to get an upgrade. Am I surprised at the quality? No. Am I surprised at the tone? No. Am I surprised at the touch, feel, smoothness ... hellz No. I am however, surprised and pleased at how much further this guitar is beyond my expectations of what I knew was going to be a great product. Name brands be damned - My 2 Artist acoustics sit proudly beside my MIA CBS Fender. Yes i am disappointed I purchased before the sale, but stuff the bucks lost, I love this baby, my number 2, my Artist.
Great Guitar

I have played guitar for a long time and own 5 acoustics and 3 electrics , Fender,Maton,Ibanez,Epiphone,Fernandes and 1 I built out of parts from 3 other guitars. I was hesitant about purchasing a guitar online without playing it first.When it arrived it was better than I expected , well made, good finish and setup. After a tune I was amazed that it sounded so good for a guitar at this price. The Cedar top gives it a warm tone that is different than a Spruce top,which is what I was looking for . Does not have the sustain and depth of my Maton, but that is all solid wood and cost 6 or 7 times the price. This was my first purchase from Artist , I have just ordered a TC 59 electric + tweed case, I hope its as good. Les - QLD