Product Description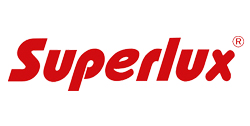 Superlux HDB581 Supra-Aural Bluetooth Headphone - Black
The all new Superlux HDB581 Bluetooth Headphone is the latest model of Superlux's brilliant line of headphones. The HDB581 features a unique supra aural structure for maximum comfort and the upgraded material for the earpads make this one of the most comfortable headphones to wear for long periods of time. It boasts a 39 mm high resolution neodymium driver for full-range sound quality in different environments. It can be used via Bluetooth or the cable which it comes with and includes a microphone volume control. The headphone can be charged on the go with the included USB cable.
The Tech Features
Brand: Superlux
Model: HDB581
Type: Supra-Aural Dynamic
Design: On ear
Driver: 39mm Neodymium Driver
Sensitivity: 102dB sPL
Impedance: 70 Ohm
Frequency Range: 20-20000 Hz
Included Accessories: 1m earphone cable, carrying pouch, USB cable
Colour: Black
(15215)
Superlux HDB581 Bluetooth Headphones

Seriously loving these headphones. They are so much smaller in profile than anything else in the range, yet the performance is absolutely stellar! Nice...