Product Description

Not all Violins are the same!
Our All Solid Wood Artist Student Violin pack is a complete package for a beginner violin player.

Full-Sized Solid Wood Violin (4/4 size)

Bow (Real Horse Hair)

Hard Case (with Shoulder Straps)

Chin Rest

Shoulder Rest

Rosin

Free Video Setup Guide (this will be emailed to you)
You will struggle to find an All Solid Wood violin of this quality for this price! It has fine tuners on all strings which are essential for good tuning. We also have a great set-up and tuning video for beginners. These Violins come fully strung, set-up and ready to play from the factory, you just need to tune them and apply the rosin to the bow. (We have support material on how to do this.)
If you need a tuner our Artist TN50 clip-on Tuner is a great choice to add to your order.
Not sure what size to buy? Here's an easy guide:
The first step is to have the player stretch out his or her arm fully ensuring that there is no bend in the arm.
The second step is to measure the total distance from the neck to the centre of the palm.
After following the above instructions, use the measurement and the sizing chart below to determine the proper violin size.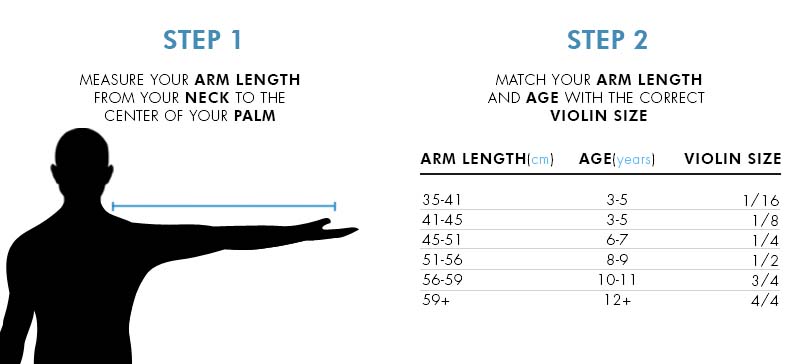 The Tech Features
Brand: Artist
Model: SVN 4/4 Full-size Violin Pack
Size: Full Size
Woods:
Top: Spruce
Back and Sides: Flamed/Quilted Maple
Neck: Maple
Fingerboard: Ebony
Tailpiece: Carbon Fiber
Tuning Pegs: Ebony
Included Accessories: Hard Case, Bow(Redwood with Horse Hair), Rosin, Chinrest & Shoulder Rest
Violin Dimensions: 58.5cm long x 21cm wide
Colour: Vintage Natural (NT)
(15996)
Student violin full size

The violin was great quality, and arrived quickly, great product and value as always!!





Artist Guitars Response
Thank you so much for taking the time to leave this feedback! We really appreciate your support!
Very nice for the money

This violin is made of the right stuff. Just set it up better with tonica strings or d'addario Prelude if money is tight. Some Hills peg paste for the pegs and nice 2b high purity graphite to the nut and bridge(from officeworks plus a refillable mechanical pencil. And do your homework on how to set up a violin at this purchase price you will probably not for a professional set up). Merry Christmas everyone and keep practicing until its easy.
Student Violin-

It's really nice but I struggled a lot to tune it. I almost managed it; and then broke a string. I'm heart broken so I haven't tried to buy new strings or tune the others.. they aren't holding their key. Hopefully it's user error because I'm in love with it :(
Artist SVN44 violin package

Very well made and.nice sounding violin , also looks stunning . You will not find a better made,playing ,looking or sounding instrument for this price (even at twice the price it wouldn't be easy ). Let alone with the outstanding reputation ArtIst guitars has for actually caring for their customers and their willingness to actually fix any problems you may have through their second to none customer service department !