Product Description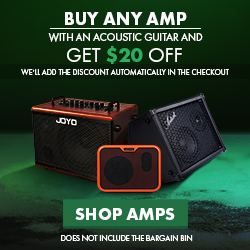 About this Artist OMC200CEQ Acoustic Guitar, Solid Top OM Size with EQ
This is an ideal guitar for anyone who wants to learn or has been playing for a while but wants a better guitar, It has a Built in Fishman Presys II with built in Tuner and a Solid Top. Solid tops will provide a much more complex tone and the wood will get better as it ages.
The Tech Features
Brand: Artist
Model: OMC200CEQ
Body Size: 40" OM Size Acoustic Guitar
Upper bout width: 28.5cm
Lower Bout width: 37.5cm
Depth: 10cm
Fretboard radius: 14 inches
Woods: Top - Solid Cedar, Back and Sides - Ash, Fingerboard & Bridge - Eco-Rosewood with Bone Saddle
Neck: Truss Rod, Scale Length 25.5", 43mm Nut
Machine Heads: Grover Rotomatic 18.1 Machine Heads (SKG301CR)
Included Accessories: Fishman Presys II EQ with built in tuner
Strings: D'Addario EXP16
Colour: Natural (NT)
Optional Gig Bags: BAG42,HGBAG42
Optional Hardcases: FC350
(14796)
OMC200eq

A very playable guitar with a good action and nice if a tad narrow neck from what I usually play.The Fishmen pickup works well and Grover machine heads keeps the guitar in tune without a problem. I don't know how Artist can sell a guitar this well made for the low price point





Artist Guitars Response
Thank you for the review and please don't hesitate to reach out if you have any questions or concerns. Cheers!
Bloody great

They say you get what you pay for. Well Artist have made a fantastic sounding, Solid Top guitar with quality hardware, including hard case for $500Aus. My guitar has no issues except for what mate said below, tape holding wiring has come unstuck, (need a better quality tape Artist.) Other than that I will put a heavier gauge string set on when needed although that might be a while as these are quality too. I have briefly plugged her in to check the electrics, no problems here. I also have to say there was quite a bit of "factory dust" on it. Again no concern for me and when strumming it out you can really smell the timbers used! Would have been 4stars due to the tape coming un-stuck but gets 5 due to shipping being very fast and packaged very well even though it was hard cased. I had no problem buying a higher priced acoustic, I'm glad I didn't, as for me I'm bloody stoked!
Really Nice Guitar

Bought one of these from the bargain bin, customer returned. Wow, it was perfect, only thing that I could find was internal pick up wiring had come loose where it sticks to underside of body. That could have happened in transit. 30 sec fix and it was ready to go. Great sound acoustically and through my amp. Had bought this on a whim, but so glad I did. Really a quality instrument, 5 Stars all round
Blown Away...

My guitar teacher was blown away when I turned up with this guitar recently! To my ears there was no significant difference between it, and his Martin...I can see this becoming my 'go to' acoustic after a couple of adjustments - to suit me better - by the local Luthier...great work Artist..you've got me!
Bright and playable

Bought to use alongside my dreadnought, this OM size is super-comfortable to play and has a lovely, bright tone. I've bought electric guitars from Artist before, but this is my first acoustic from them and it's very impressive for the price. In addition to the nicely finished body and subtle design, it comes with quality Grover machine heads, Fishman pickup and a really good set of strings, which is always a bonus. Feels, plays and looks like an instrument you'd pay a lot more for if it had a different name on the headstock. Information, packaging and delivery time all great as always. Thanks Artist for another beautiful guitar and reliably excellent customer experience.