Product Description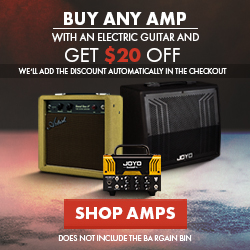 Artist LP60PROCSB Pro-Line Cherry Sunburst Electric Guitar
This Electric Guitar is perfect for Classic Rock, Blues, and Heavy Metal of any style.
This electric guitar is a thicker bodied, slightly thick neck and heavier guitar than the original LP60CSB, with our famous Artist Bullbuckers, so it sounds and plays better. It is used for various styles of music, most notably all the styles of Rock, Blues, and Metal. All of these guitars have a Set Neck for superior sustain and tone, unlike a lot of similarly priced guitars on the market that usually have a bolt-on neck.
Note: the 'Set Neck' design on any guitar type always gives superior SUSTAIN and TONE over a 'Bolt-on Neck' design.
The Tech Features
Brand: Artist
Model: LP60PROCSB
Neck: Okoume Set Neck, Truss Rod, Scale Length 243⁄4" / 628 mm
Fretboard: Eco-Rosewood, 22 Frets, Trapezoid Pearloid Inlays
Nut: 42mm / 15⁄8" Bone Nut
Fingerboard Radius: 12" / 305 mm
Body Wood: Okoume with Maple Flame Veneer
Machine Heads: Die-cast Chrome
Bridge: Classic Tune-o-Matic style
Pickups: 2 x Artist Bullbuckers with Chrome Covers
Pickguard: Cream
Controls: 2 x Volume, 2 x Tone, and a 3-way Toggle switch
Colour and Finish: Gloss Cherry Sunburst
Weight: 3.5kg - 4.2kg approx.
Optional Hardcases: LP400BK, LP500BR
Optional Gig Bags: HGBAGST, BAGST
(16406)
Just getting back to playing

When I was 13/14 I bought a rubbish guitar, liked it so bought an entry level of a good make. But I was young and lost interest. Then Christmas just gone 2020, my wife bought me a guitar online, it was meant as a joke, I mean it was $100 for everything including tiny amp. But it whet my appetite and I bought a decent Ibanez, not top range obviously, but still a nice unit. I then wanted something a bit more subtle, like a Les Paul haha, no way I could afford that. Looked at the Epiphone ones, another copy as well, I wasn't too impressed. Then after searching saw some videos of the LP60 Pro-Line, it sounded fantastic, and at $279 I took a punt. Wow turned up to Brisbane in 3 business days. Looks beautiful, and very well built. While tuning it I got a bit worried, the machine head for G string seemed loose. However after playing it for around 6 hours non of the strings have gone out of tune. This guitar is absolutely amazing, especially for the price. I'm already eyeing up the SG/AG model, it's just how to get it without my wife noticing!!!





Artist Guitars Response
Thank you for sharing your experience with the guitar. We are glad that you like it and thank you for the review. If you have any questions or concerns with the guitar, please do not hesitate to contact us. We would always be more than happy to help.
LP60PROCSB Pro-Line Cherry Sunburst Electric Guita

This guitar is awesome! I own 11 Artist guitars and bought this one because it has the Bullbucker pickups and a killer finish, and I was told was heavier than the regular LP60's with a thicker neck, and I wasn't disappointed. The guitar has a good weight to it and I like the baseball bat type necks :). The sustain and tone are superb and the guitar was set up perfectly right out of the box. Artist Guitars seem to just get better and better and they really knocked it out of the park with this beauty. I highly recommend this guitar to anyone looking for an LP style guitar that is a delight to play. In my opinion this guitar is THE BEST bang for your bucks you can get!! Thanks Artist Guitars.





Artist Guitars Response
Thank you for the continued support Graham! Having ordered and reviewed two guitars, we are just so happy! We will strive our best to keep giving you quality guitars at affordable prices!
Absolutely fantastic guitar.

I cannot believe the quality of this guitar at this price range. The guitar is beautifully finished with a high gloss, deep cherry sunburst, and an incredible flame veneer. There are no gaps or anything of concern in the build and the tuners really surprised me with their smooth reliable adjustment. Pickups are possibly some of the best that I've heard on a sub $1000 guitar. Overall I have no hesitation in recommending this Guitar.