Product Description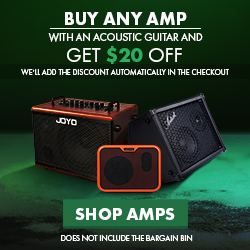 Artist JMH200CEQ Solid Mahogany Top Acoustic-Electric with Preamp
The JMH200CEQ has a Solid Mahogany Top and Laminated Mahogany back and sides with a captivating finish and slightly bevelled edges. It's a full-sized guitar with cut-away.

Mahogany provides a more resonant tone, that is able to sustain longer. Players most often find that the tone also remains more balanced than most other guitar tonewoods. Sounds produced from a mahogany guitar tend to be on the warmer, more controlled side of tone. Most acoustic guitars feature mahogany in the guitar neck, because it provides a more stable feel. The tonewood may be used in the body of some guitars to produce a deeper, warmer tone.
As with all of our solid top range it includes real bone nut for optimum tone transfer. The hardness of the bone gives the string a solid basis to vibrate against, whereas plastic nuts are often very soft and this can be a cause of tone loss.

The Fishman Presys II pre-amp and built-in chromatic tuner mean that you can plug this guitar in for live performance or recording.
The Tech Features
Brand: Artist
Model: JMH200CEQ
Body Size: Full size
Overall Length: 41"
Woods:
Top - Solid Mahogany
Back and Sides - Laminated Mahogany
Fingerboard & Bridge - Laurel
Neck: 3 pieces Okoumen, 2 way Truss Rod, Scale Length 25.5", 42mm Bone Nut; 20-22mm Thickness
Fretboard: Laurel ; 400mm Radius
Bridge: Laurel; 8.5mm Thickness
Strings: D'Addario EXP16
Preamp: Fishman Presys II
Accessories:
Hard case: FC350 OM Sized Case
Soft Case: Bag42 and HGBag42
(16231)
ARTIST JMH200CEQ SOLID MAHOGANGY TOP ACOUTIS ELECT

Very happy with the purchase. Plays well for strumming and picking. Great set up ( action spot on ), Easy to play. Doubt if I could have bought any better for the same price. WILL NOT DISAPPOINT.





Artist Guitars Response
Thank you so much for taking the time to leave a review Peter! We appreciate the support!
JMH200CEQ Solid Mahogany Top Acoustic - Great guit

I bought mine in August 2020 but after I ordered it got an email saying wasn't in stock and wouldn't be delivered until late November, got another 3 or so emails extending the delayed delivery & finally arrived in early January 2021. BUT was worth the frustrating wait. Is a beautiful guitar to play and to look at. A real work of art and I'm really happy with it & so proud to be the owner of such a nice quality beautiful guitar. It's the 4th guitar I've bought from Artist Guitars (as well as a few other things) and have been impressed with everything I've bought and the very good service. I've concluded though that I might have to go into therapy to address my Artist Guitars "addiction" !
My new Artist Mahogany Solid Top Acoustic with Pre

I was a little apprehensive that it might not live up to the advertised hype but pleasantly surprised when it arrived. It is a beautifully finished guitar with a clear ringing resonance. Much louder than most of its contemporises. Low smooth action with a well set up neck and it arrived with 10's on it which ( contrary to popular belief ) is more than heavy enough for any Acoustic especially if you care anything about hand fatigue. Through an amp the guitar has a rich deep tonal quality that is both clear and self sustaining. I was a little worried when I saw the packaging that it arrived in but upon opening the cardboard box I could see that extra care had been taken to cushion the instrument from those inevitable knocks and bounces suffered during transit. the tuners are solid and smooth. All in all the $350.00 price tag is quite conservative for a Guitar that feels and plays much more like a $500.00 to $600.00 Guitar.
Best guitar I've owned

This is my second purchase from Artist guitars after buying a classical guitar a few weeks back. Saw this up for preorder and thought I'd take a chance. Once again I am absolutely blown away by the quality instrument which arrived at my door within a couple of days after release. The build quality is of a really high standard, the Solid Mahogany top looks incredible and the grain is flawless. Everyone who has seen and heard me play can't believe how great it sounds. I've compared it to my fathers old guitar which he purchased for about twice the price 15 years ago and this just blew it out of the water. This should easily be 2 to 3 times the price it is. It has a really crisp, warm but resonant sound. The machine heads are superb and always hold tune and the body shape is just so much more appealing to me then the standard dreadnought. The fishman preamp is just the icing on the cake. Artist has knocked it out of the park with this one and I really hope they bring out some more acoustic/electric guitars in the near future.
JMH200ceq

This large resonant body gives out beautiful honey tones the body is excellence itself. The heel joint is superbly low the cut away allows for great access to higher register. with a serial number inside the body on the end of the neck. Loud warm crisp. Love it