Product Description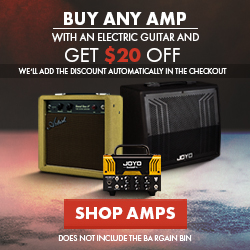 Artist GNOSIS6FRL Left-Handed Blue Cloud Electric with Floyd Rose
The first Artist guitar to feature a Floyd Rose tremolo system, the GNOSIS6FRL is a variant of our popular GNOSIS6 Model. This guitar is ideal for those interested in the heavier side of music. The popularity of ST style guitars has surged in the last 20 years, being adopted as an icon of the hard rock and metal scenes. If you love heavier music, this is the guitar for you.
The GNOSIS6FRL is a 6 string, ST style guitar with a Floyd Rose Special Tremolo system and locking nut. Featuring a poplar body with a beautiful, quilted maple top and a Canadian maple neck with an Eco-Rosewood, 24 fret fingerboard. With a set-neck and deep cutaway, the GNOSIS6FRL allows easy access to all 24 frets. It is designed with your need to achieve ultimate sustain and it delivers! This guitar excels at drop tuning by retaining a tight low end.

It also has a special combination of two Medium-High output Neck Humbucker and Bridge Humbucker. This means that you can switch from fluid Neck Pickup solo runs and warm clean sounds to the more hardcore crunching rhythms and shred guitar solos obtained from the impressive Bridge Pickup.
The Tech Features
Brand: Artist
Model: GNOSIS6FRL
Orientation: Left-Handed
Body: Poplar, Super Strat Style
Scale Length: 251⁄2" / 648 mm
Nut: 43mm / 111⁄16" Locking Nut
Neck:
Wood - Canadian Maple
Construction - Set Neck
Thickness - 21.5-23 mm / 7/8"
Fretboard:
Wood: Eco-Rosewood
Fretboard Radius: 12" / 305 mm
Frets: 24 Frets, 1.1 mm / 1/16" 2.6 White Copper Fretwires with Binding
Bridge: Floyd Rose Special
Pickups:
Neck: Ceramic Bar, D.C. Resistance: 7.2K, Black Bobbins
Bridge: Ceramic Bar, D.C. Resistance: 16K, Black Bobbins
Controls: 1 x Volume, 1 x Tone, 3-Way Selector
Weight: 3.2 - 3.5 kg / 7 lb and 6.2 oz approx
Bindings: White Binding for Body and Fretboard
Accessories:
Strings: 10-46 Gauge D'Addario
2 Celluloid Picks
Colour and Finish: Quilted Maple Blue Cloud
Optional Hard Cases: REC300RC, REC350BK, REC350FTB, EC500
Optional Gig Bag: HGBAGST, BAGST
(16606)
Pete picks

First impressions after opening the box was a very appealing electric guitar. The craftsmanship was remarkable given the price. Plugging in this finely crafted guitar yielded a full, robust sound and satisfying sustain in distortion mode from both pick ups and transparent clean tones. The guitar is comfortable in my favored, between the legs,classical recital,sitted position. Strapped on,standing,the guitar is not heavy at all. The neck has a played in feel and comfortable. The locking tremolo responds well to subtle as well as extreme whammy bar usage. Overall,in my 40 years of playing,this guitar has the look, feel and sound of a guitar much more expensive. A satisfied customer and would not hesitate to recommend this guitar to beginner through experienced players. P





Artist Guitars Response
Thank you so much for taking the time to share this feedback. We really appreciate the support!
Great Guitar but…

My wife just purchased this guitar for my birthday and wow it's a nice looking guitar, colours are stunning, finish is great. The guitar is light and feel great in the hand and plays like a charm. Setup was pretty much spot on out the box and frets are fine. The only thing that baffles me is I can't understand why the "Artist" logo on the headstock is upside down, it's disappointing that such a nice guitar has such an obvious flaw, I first saw it in the photos and thought it was an error In the photo but after unboxing I can confirm it's upside down in real life, apart from this I love the guitar and happy birthday to me :)





Artist Guitars Response
Thank you so much for taking the time to share this feedback. We will look into having the logo fixed. We really appreciate the support!
By: William on 4 June

By: William on 4 June 2021Great guitar but its really annoying how this is the only artist guitar with a Floyd Rose and its left handed. Fancy whinging that the colour you like is "left handed" try your colour choice if your a lefty for an acoustic guitar Wood or Wood or Wood.....no wonder its sold out imagine if us Lefties had a choice of anything that had a lick of any pigment. I have been watching and filling out surveys for years begging for something other than Wood..........
Floyd Rose

Great guitar but its really annoying how this is the only artist guitar with a Floyd Rose and its left handed.





Artist Guitars Response
We're sorry about that. At the moment we only have this guitar in the left-handed version but we will definitely stock the right-handed one very soon. We also sent you an email regarding this. We would appreciate if you could check it.