Product Description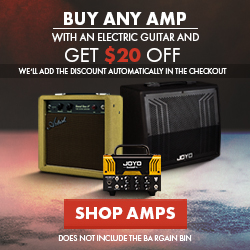 Artist GNOSIS6FR Blue Cloud Electric Guitar with Floyd Rose
The first Artist guitar to feature a Floyd Rose tremolo system! The GNOSIS6FR is a variant of our popular GNOSIS6 Model.
The GNOSIS6FR is an even more adaptable, multifaceted and functional modern instrument than the GNOSIS6. It has modern appointments to suit everyone from beginners to the most dextrous shredders.
This style of electric guitar is loved by Hard Rock and Heavy Metal Guitarists and has become a classic icon of that genre. Since the early 2000s, the popularity of this style of guitar has surged, becoming the favoured guitar for the modern 'Hardcore' music movement. Bands like Periphery, Park Way Drive and I Killed the Prom Queen have made this style of guitar their go-to axe when wailing in that all-out crushing tone demanded from open LOW-Tuned music. Now... it's YOUR turn.
Our Artist GNOSIS6FR (pronounced 'know-sis-6') is a versatile 6-String with an all Maple Neck, Poplar Body with Quilted Maple Veneer, Eco-Rosewood Fretboard, 24 frets with 'DOT'-shaped plastic inlays, and a SET-NECK. It has easy high-neck access and is set off by a licensed Floyd Rose Tremolo. It is designed with your need to achieve ultimate sustain and it delivers! This guitar plays fast with a speedy neck, and maintains tight low-end frequencies so it's great for thick warm tones, and heavy drop-tuned chugging alike.
It also has a special combination of two Medium-High output Humbuckers. This means that you can switch from fluid Neck Pickup solo runs and warm clean sounds to the more crunchy rhythms and shred guitar solos on the impressive Bridge Pickup.
The Tech Features
Brand: Artist
Model: GNOSIS6FR
Orientation: Right-Handed
Body: Poplar, Super Strat Style
Scale Length: 251⁄2" / 648 mm
Nut: 43mm / 111⁄16" Locking Nut
Neck:
Wood - Canadian Maple
Construction - Set Neck
Thickness - 21.5-23 mm / 7/8"
Fretboard:
Wood: Eco-Rosewood
Fretboard Radius: 12" / 305 mm
Frets: 24 Frets, 1.1 mm / 1/16" 2.6 White Copper Fretwires with Binding
Bridge: Floyd Rose Special
Pickups:
Neck: Ceramic Bar, D.C. Resistance: 7.2K, Black Bobbins
Bridge: Ceramic Bar, D.C. Resistance: 16K, Black Bobbins
Controls: 1 x Volume, 1 x Tone, 3-Way Selector
Weight: 3.2 - 3.5 kg / 7 lb and 6.2 oz approx
Bindings: White Binding for Body and Fretboard
Accessories:
Strings: 10-46 Gauge D'Addario
2 Celluloid Picks
Colour and Finish: Quilted Maple Blue Cloud
(16404)
Artist GNOSIS6FR Blue Cloud Electric Guitar Review

[ ARRIVAL ] The guitar arrived on the expected date and came with an extra lead and picks. the guitar comes pretty well set up tho the action was a bit high for me. The guitar comes with all the alen keys you need and the whammy bar comes in a bag, not on the guitar, so there is no damage to the bridge or strings while shipping. The tuners had a bit of grime on them but it rubbed off easy. [ LOOKS (good) ] I took it out the packaging and it looked way better to me than the image shown on the website. The colour looks much better in person. The cloud pattern runs horizontal across the body rather than angled like in the image shown. The black hardware goes great with the blue cloud body. there is no string tree unlike shown in the image shown and there wouldnt need to be one since the neck is already angled. The guitar has a gloss finish on the front and the back and on the neck which is said to make the neck sticky but i havent found it to slow down my playing in any way. [ LOOKS (bad) ] I could see a bit of unpainted wood around the cover of the electronic cavity on the back. I think the guitar would look better with a pure white binding rather than an off white creamy colour. The binding on the neck is chiped on both sides under the locking nut [ PLAYING ] There where no sharp fret ends and the guitar shape gives easy accses to all 24 frets. I find that after a bit of playing my finger tips were black. This aparently happens alot with brand new guitars and even happens with brands like Ibanez. People say it's to do with somthing they put on the strings to make them last longer, others say it,s the fretboard dye but i personally think its the frets since i rubbed my finger along a fret and got a black streak. weird stuff but this problem usually gose away. the whammy bar made a ting sound when depressed beyond a certain point and i checked the springs to make sure they werent catching on anything which they were not so to stop the tinging i put a bit of foam under the springs and it seems to have fixed the problem. Im not going to say much about tone because i cant really tell tbh i just keep the tone knob on 10 but the guitar sounds great to me and the neck through design gives it long lasting sustain. Some people say that Floyd Rose Specials arent the best at holding tuning but iv only had to tune it once and it hasent gone out of tune ever since. Overall this guitar is great and is my go-to guitar for fast playing. Im not sure if the image has some differences to the actual guitar maybe because they have tweeked the design a bit after its release. i hope not becuase than this review wouldnt be as helpfull.
Dude......

I'll take a Pepsi challenge on any Ibanez/schec / Jackson with a locking trem on this beast. Dude for the price it's a steal. The color looks rad - the quality is top notch- has a human made it vibe. I played it thru Bias Fx2 and it ATE up the Pantera/Metallica presets! My new djent machine. Thanks Artist . After friends saw it they will definitely be checking out your store. Stoked
Good!

After waiting for it's released, this guitar is very good!.. colour is little different from the photo, but it's grown on me.. floyd rose work well, but it need slight set up .. still play well from the box.. solid black headstock will look good on this , but the blue look OK... Thanks A/G's
Great Guitar

Mine arrived today. Guitar looks great, it feels and looks well made. Played very nicely out of the box. No blemishes. Two things, which are quite minor. The colour is definitely not blue. It's is more of a sea green/ aqua would be my best description. It's still a nice colour but I was actually looking for something like the picture which is definitely a darker blue. Also when I peeled of the protective plastic cover on the backplate it did lift some of the black colour off. Again not a bit deal and I'm not gonna mark down the guitar for that. I definitely think a new photo needs to go up that is more indicative of the colour as I would likely have not purchased this colour as I was really after a more striking blue. Cosmetic stuff at best but these are very nice guitars at a great price
Blue!!

can't wait... I got the normal version, great guitar.. should be great with FR's .. Artist Guitars Thanks..