Product Description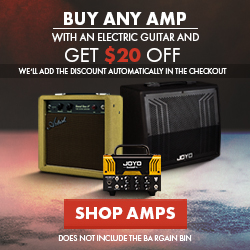 Artist GM1L Grungemaster Left Handed Electric Guitar
Now available in a left-handed version! Our Artist GRUNGEMASTER was purpose-designed here at Artist Guitars to be a great 1st guitar to set you on your path to dirty riffs! Featuring a Poplar body, a Maple Neck with Eco-Rosewood fretboard and plastic block-inlays, two 'P90' styled Single Coil Ceramic Bar Pickups with a 3-way selector, Tune-O-Matic bridge with a Stop-Tail-Bar for increased stability, and Die-cast Chrome Machine Head tuners.
The Tech Features
Brand: Artist
Model: GM1L (Left Handed)
Neck: 25.5" scale Canadian Maple Bolt-On Neck, Truss Rod, 21 Frets, Eco-Rosewood Fretboard with 'Block' shaped plastic Inlays.
Body: Poplar with Tortoiseshell scratchplate
Machine Heads: Die-cast Chrome
Bridge: Chrome coloured tune-o-matic style, with 'Stop-Bar' anchor.
Pickups: Cream coloured soapbar covered 'P90' type pickups, ceramic bar magnet.
Neck - M-90N 7.8K 5.2H
Bridge - M90B 9.2K 6.2H
Controls: 1 x Volume, 1 x Tone and a 3-way switch
Colour: WHITE
Dimensions: 103.5cm x 54cm x 8.5cm
Weight: 3kg - 3.5kg approx.
Optional Hard Cases: REC300RC, REC350FTB, REC350BK
Optional Gig Bags: HGBAGST, BAGST
Weight: 3kg - 3.5kg approx.
(14816)
Grungemaster Left Handed Electric Guitar

Well made guitar, looks and feels a quality product. Really satisfied with my purchase - thoroughly recommended. Hoping to join Pearl Jam soon ;-)





Artist Guitars Response
Thank you so much for taking the time to leave this feedback! We really appreciate your support!
Great pickups and great guitar

Had to leave a review for this recent great purchase. Once I had the guitar setup by a pro, (the nut needed carving out, intonation set, and a couple of frets shaved down), this guitar plays brilliantly. The P90 pickups are very good at this price point and are the best feature of the guitar. Lightweight body and very easy to hold and play. Well done Artist on such a good value product. Happy customer.





Artist Guitars Response
Thank you so much and we are stoked to hear that you are happy with the Grungemaster.
GO to guitar

I have 8 electric guitars and this guitar is my go to guitar in all situations and all amplifiers no matter what you plug it into it always sounds good with a minimum of effort I would recommend this for beginners or seasoned guitar players the tone is just magic and it's so easy to get those clean blue tones with a little bit of break up five of my guitars are artist guitars and three of them are name guitars and artist guitars is basically knocking it out of the park for value Very much looking forward to that thin line guitar coming out in May I've ordered it and I know it will be a great guitar thanks guys
Great value!

P90's, metallic white paint and an oiled neck for $159? Yep bought it on sale, and If I new it was going to be this good, $259 would not have been a problem. Great voice, singing lead( grungemaster it is not only), great string tension and note articlulation. Great guitar whatever your disposition.
Grungemaster Lefty

Guys, knocked it out of the park. By far, the best bang for buck guitar I've owned. I love the tone, feel, look, it's all just so pro, and yet the price isn't. Amazing!