Product Description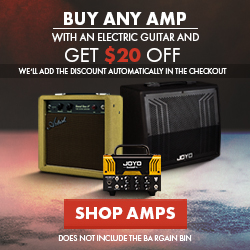 Artist AG45 Sonic Blue Electric Guitar Plus Accessories
The new AG45 has a new slim design neck which has been improved and is great for players that want to play fast. It has a humbucker/single/humbucker configuration and decent pickups. This guitar is a great addition to your guitar line-up or a great first start. You won't believe the quality for this low price! We also sell these as an amp package.
This is a full-size guitar perfect for Adults, recommended for children over the age of 12 (or younger if your child is strong and taller than 1.2m)
It includes all the accessories you need to get started:
AG45 Electric Guitar
Electronic Guitar Tuner
Strap
Bag
Lead
Picks
Receive free exclusive access to video lessons when you buy a guitar pack:
We are proud to offer you a series of online lessons designed specifically for beginning guitar students. This series of lessons was designed inhouse, to give you the best start to your musical career. This is what this lesson pack is all about - the stuff that nobody really tells you at the start of your guitar playing journey. Issues like holding the guitar, using a plectrum and some simple exercises to start you off.
So whether you're 7 or 70, take some time to check out the lesson pack and most importantly - be patient and have fun! Note that you would need to be logged into your Artist Guitar's account and you would have to subscribe to our Newsletter first to receive the link to the lesson program. You can UNSUBSCRIBE as soon as you get the link.
Some of this guitar's great features

It has an eco-rosewood fingerboard and maple neck, a 2-way truss rod (which means you can adjust the neck up or down)

The humbucker/single/humbucker configuration will deliver high-gain rock tone, great for punk and metal.

It has a classic strat style bridge (so you can do classic style tremolo and string bends) & die-cast machine heads that will help you stay in tune longer and make your tuning easier.

We include a range of support materials from how to tune, how to read tab, basic chord shapes and more.

The Tech Features
Model: AG45 BLU
Neck: 24 Frets, Truss Rod, Scale Length 25.5"
Fingerboard Radius: 12" (305mm)
Woods:
Body: Poplar with Basswood Veneer
Fingerboard: Eco-Rosewood
Neck: Maple
Machine Heads: Die-cast Chrome
Bridge: Vintage Trem with a tremolo bar
Pickups:
Neck: Humbucker, 7.2K 3.8H
Middle: Single Coil, 5.5K 3.2H
Bridge: Humbucker, 16K 9.6H
Controls: Chrome Volume & Tone and 5-way pickup switch
1st - Neck Humbucker
2nd - Neck Humbucker plus Middle Single Coil
3rd - Middle Single Coil
4th - Bridge Humbucker plus Middle Single Coil
5th - Bridge Humbucker
Included Accessories: Tremolo Bar, Neck adjustment and Bridge adjustment Allen key's, Guitar Lead, 2 x Picks
Bonus Accessories: Bag, Strap & Electronic Tuner
Colour: Sonic Blue
Optional Hard Case to fit this Guitar: REC300RC
Weight: 3-3.5kg approx, around 7lb
Don't have an amp? Check out our Electric Guitar Pack including everything here + a guitar amp.
(15096)
WARNING - KEEP BUTTON BATTERIES OUT OF REACH OF CHILDREN
Swallowing may lead to serious or fatal injury in as little as 2 hours, due to chemical burns and potential perforation of the esophagus.
Never allow children to replace button batteries of any device.
If you suspect your child has swallowed or inserted a button battery immediately call the 24-hour Poisons Information Centre on 1311 26 (Australia) or 0800 764 766 (New Zealand) for fast, expert advice.
Regularly examine devices and make sure the battery compartment is correctly secured, e.g. that the screw or other mechanical fastener is tightened. Do not use if compartment is not secure.
Dispose of used button batteries immediately and safely out of the reach of children. A battery can still be dangerous even when it can no longer operate the device.
Tell others about the risk associated with button batteries and how to keep their children safe.
Can NOT go wrong with this

I recently received my AG45 and she's a beauty!! Beautifully set up out of the box, minor intonation adjustment required but great neck and the action was to my liking which is a plus. 30 second tune up and before I knew it I had Metallica covers blasting from my amp! The tone/volume knobs have the perfect amount of resistance so you get a good feel for rolling off volume and the PUP Selector switch is really solid. The tone in the bridge is epic, runs hot. Haven't tested the middle and neck pickups too much but sounded fine to me in my quick test. Good weight, not too heavy and not too light. The neck though is what wins this for me. It's really slick, and perfect thickness for my preferences. Out of the guitars I've had in the past including Squier Strats, Gretsch Jet, Fender Mustang and Jazzmaster this has the most playable neck of the lot. Really happy with this. Great service and shipping too - even with the Pandemic delays it was here in 4 days. You beaut!





Artist Guitars Response
Thank you so much for the lovely review. We really appreciate the support!
Top Guitar for the price

Out of the box.. Tune and lower action.. Can't put it down.. Buitiful looking guitar for low cost.. 24 frets.. Nice.. Happy with All My Artist Purchases..





Artist Guitars Response
Thank you very much for your feedback. We really appreciate it. We look forward to more business with you in the future. Cheers!
Amazing 24 fret guitar for the price

I've given this five stars because it is listed and priced as a beginner guitar. The quality and value for only $200 is just outstanding and any beginner would do very well to learn on this instrument. I'm not a beginner but I bought this as I wanted a 24 fret guitar without spending too much. I'm a fan of Ibanez and that obviously appears to be the inspiration of this guitar. My best guitar had a RRP of around $1600 but I can tell you it's not a whole lot better than the AG45. The neck shape and feel of the AG45 is great. The fretboard itself is perhaps a tiny bit (like 1-2mm) too thin for me as both E string occaisionally slip off the edge but I blame my technique for that as much as anything. The neck join to the body is a great tapered shape allowing easy access to the high frets. The tuners and nut are just basic but hold tune very well even when there's a lot of string bending. The body itself feels very light - not too light, but nice and light. The pickups sounded pretty good really, difficult to quantify but maybe 75-80% as nice to listen to as the pickups on my expensive guitars. Here's what I didn't like so much: 1) The middle pickup is too high and either the routing of the hole or maybe just a problem with the adjustment screws aren't allowing me to lower it enough, so I keep banging into it with the pick. 2) I wish the frames around the humbuckers were not there so I could lower them deep in the body too. 3) The paint finish was great except for one small blemish which is unfortunately right in your face when you use the instrument. Overall amazing beginner guitar and really an excellent instrument all round.





Artist Guitars Response
Thank you so much for taking the time to leave a review Marcus. We really appreciate the details and this can certainly help others in making their choice to buy this guitar. Regarding the cons you mentioned, you can contact us via email and see if there can be anything done regarding these.
Amazing

What can I say? Wouldnt buy any other brand for this price. The accessories are great and the guitar is mint. And overall the brand is awesome
Great guitar

I bought this guitar a few months ago it arrived and was faulty i contacted the team at artist guitars and they replaced the guitar no questions asked the second guitar arrived and it was perfect totally flawless well built sounds great excellent service from the team at artist guitars