Product Description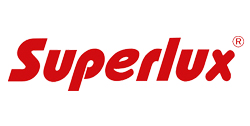 About these Superlux BES5A 5-Inch 2-Way 70Watt Active Studio Monitor - Pair
The Superlux BES5A is a very compact bi-amplified active monitor speaker. Its bassreflex system delivers outstanding monitoring precision for digital or analog production in stereo or surround formats, with performance comparable to much larger systems. Advanced driver and enclosure design are carefully matched with superior amplifier and electronic circuitry. Bass response has been widened down to 50Hz while distortion is substantially lower. The BES5As excellent directivity characteristics and accurate imaging together with its compact size and flexible connectivity make the BES5A the perfect monitoring tool for a wide range of applications.
Integrated die-cast heat-sink and back panel ensures the ultimate efficient cooling
Advanced bi-amplified power, 40W for LF and 30W for HF
5" cone woofer and 1" titanium dome high frequency drivers
Frequency response 50Hz- 22kHz
XLR balanced input and 1/4" unbalanced input.
TRIM Control for High and Low
Magnetic shielding
The Tech Features
Brand: Superlux
Model: BES5A
Type: Bi-Amp 2 way Active Speaker
Crossover Frequency: 2.5kHz, 24dB/oct
Overall Frequency Response: 50Hz - 22kHz
Maximum Output Level: 101dB , 1m on Axis
Magnetic Shielding: Yes
Components LF/HF: 5" / 1" Titanium Dome
Enclosure Type/Material: Bass-Reflex, PP
Output Power LF/HF: 40W/30W
Signal to Noise Ratio: >=93dB
Dimensions: 28.7cm x 17.8cm x 21.7cm
Net Weight(per Speaker): 6.4kgs
(14177)
Bes5A Superlux Speakers.. 70watt

Highly satisfied with These monitor speakers. Heaps of power.. Lower end and higher peaks.. Very Fast Delivery.. Good price for this System.. Plus all My Purchases from Artist.





Artist Guitars Response
Thank you and we're happy to know that you're satisfied with your purchase. Cheers.