Product Description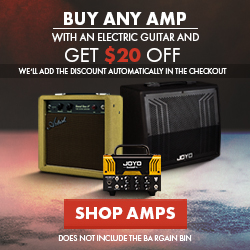 Artist TC59TSB Electric Guitar with Bullbucker Pickups
The Artist TC59 Electric guitar has certainly been a long time in the development phase but as the saying goes, "good things come to those who wait" and the TC59 is finally here and a "good thing" it certainly is!
Combining vintage styling with contemporary appointments, the TC59 is a worthy addition to the Artist Guitars brand offering everything that you could want in an electric guitar without the hefty price tag.
Sporting Artist's in-house designed and manufactured "Bull Bucker" humbucking pickups, the range of sound possibilities that can be achieved from the '59 whether it be jazz, blues, rock or country, is quite astounding. The "Bullbuckers" is a fantastic pickup in their own right and are starting to make some very positive noise amongst guitar players but when they are combined with the TC59's American Ash body and the vintage style maple neck you have an absolutely outstanding guitar package.
The modern bridge which allows for each string's intonation to be adjusted separately guarantees that you can set your guitar up to its optimal level - such a necessary and useful innovation.
To top it all off this wonderful little axe has locking machine heads that make sure that tuning is never far from perfect.
Check this little beauty out! It is well worth the effort - you won't be disappointed!!!
The Tech Features
Brand: Artist
Model: TC59TSB
Scale Length: 648 mm / 25.5 Inches
Body Wood: American Ash
Machine Heads: Improved Locking Machine Heads
Finish: Vintage Sunburst
Neck: 22 fret Maple Fingerboard; Satin Finish; Bone Nut; Nut Width: 43mm; C-Shape Neck
Fingerboard Radius: 12" (305mm)
Bridge: Modern Style Bridge with Brass Saddles(Individually Adjustable)
Pickups: Humbucker/Humbucker (Bullbucker pickups with Chrome Covers)
Features: 3-way switch, Coil Splitting, String Through Body, Better Wiring Shielding
Weight: 4kg - 4.5kg approx.
Optional Hardcases: REC300RC, REC350BK, REC350FTB, EC500
Optional Gig Bags: HGBAGST, BAGST
(16350)
Shoulder killer

Beautiful instrument, I really like the 'burst colours and Swamp Ash grain. Pups are great, not a whole lot of split coil difference (to my ear) but it is there. Neck feels great, intonation out of the box was flat on E/A/D - easy fix. But I have to mention the weight. Mine weighs in at 4.9Kilos and even with a padded strap kills my should after 15 minutes. Best as a sit-down player... The locking tuners have one downside, they get in the way of hanging in the Hercules wall hanger, so this has to sit in the floor stand. Over all I give it a 10/10 for value. Oh, and delivery was a week ahead of ETA! (To FNQ)





Artist Guitars Response
Thanks a lot for your feedback. We're happy that you like it overall. Please feel free to reach out if you have any questions. We're just here for you.
Telecaster

What a great guitar. Looks a treat. Plays and sounds great. For a fraction of the price. I have purchased several guitars ( and a mandolin ) from Artist Guitars and would recommend them to anyone.





Artist Guitars Response
Thanks very much for your positive feedback on the guitar. We are happy that you're satisfied with it. Please feel free to reach out with any questions. We're always here for you. Stay safe!
TC59 sunburst tele

Hi everyone I got my tele the other day. Arrived early mint condition can't floor it at all.i have bought three guitars off Artist Guitars and they have all been extremely good. Will be buying more from them. Just waiting for my Brownburst 58 to come.





Artist Guitars Response
Thank you so much for all the support!
Great Guitar

I agree with all the best reviews for this TC59TSB guitar. Every aspect that goes towards making a great guitar is represented in this model. Brilliant neck, playing action, excellent pickups, superb finish. Yes a true beauty.
I'm impressed!

What a great guitar, never mind the fact it costs less than $300. I had read other reviews and thought I'd give one a try. I would have no hesitation doing any gig with this guitar as it came from the factory. When I could be bothered, I will lower the action at the nut a little, but it's perfectly playable as it is. My only comments, which are not really criticisms are. It is a fair old lump of wood, I think it's heavier than any other guitar I own. Given the weight, I probably wouldn't want to wear it for more than a 40 minute set at a time. The maple neck wood is not the nicest piece of maple I've ever seen, it doesn't have any knots, it's just a bit grainy. The bridge saddles sit very high, the string action at the 12th fret is exactly how I like it though, so I'm not sure if this was intentional, but I may look at changing the neck angle at some stage, just to lower the saddles closer to the bridge. The pickups are fantastic, the coil split is good too, the locking machine heads work as expected, it holds tune very well and the fret work I can't find fault with. Wether you're an experienced player or a complete beginner, I definitely recommend this guitar.