Product Description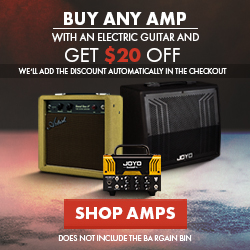 Artist Spiritus7 Black Gloss 7-String Electric Guitar
The Artist Spiritus7 is the perfect introduction to 7 String guitar to take you on your journey to the world of low tuned Metal and Djent. This guitar has a super-strat shaped black gloss Poplar body, a Canadian Maple Bolt-on neck, black Tunomatic bridge and string-thru ferule tail for the best sustain possible. The controls are simple and effective, 1 volume, 1 Tone and a 3-way selector.
With its moderate-high output passive open-coiled ceramic magnet humbuckers, this guitar will have a tight low end, and that familiar lower-mid growl that some of the more expensive guitars on the market have, that is crucial to low tuned Heavy Metal and Hardcore styles.
The Tech Features
Brand: Artist
Model: Spiritus7
Body: Poplar, Super Strat Style
Scale Length: 25.5 Inches
Neck:
Wood: Canadian Maple
Construction: Bolt-on
Thickness: 22-24 mm
Nut: Bone
Fretboard: Eco-Rosewood, Modern D
Fingerboard Radius: 14" (350mm)
Frets: 24 Frets, 1.1 mm 2.7 White Copper Fretwires
Bridge: Black Tune-o-matic Bridge
Pickups: 2 x Passive Humbucker Pickups, Open Coil Black Bobbin, both Ceramic Magnet.
Controls: 1 x Volume, 1 x Tone, 3-Way Selector
Hardware: Die-Cast Black
Accessories: Strings - 10-59 Gauge D'Addario, 2 Celluloid Picks
Colour: Gloss Black
Weight: 3.4-3.6kg approx. 7lb 11oz
Optional Hardcases: REC300RC, REC350BK, REC350FTB, EC500
Optional Gig Bags: BAGST, HGBAGST
(15552)
Worth the money (factory 2nd)

Got this one as a factory 2nd customer returned model for a large discount. I didn't inquire as to why it was a factory 2nd. Turned out it had 2 issues: bridge not properly grounded and neck pickup was misaligned (2 bobbins didn't line up with each other or the strings). Other than that it plays quite alright and the action is quite playable but not perfect out of the box. With some of the money I saved I could afford some wilkinson humbuckers, and I'll ground the bridge when I install them. I am a serial 5-star reviewer here because of the value for money. An Ibanez would be better, but you're looking at 3x the price.





Artist Guitars Response
Hi there! Thank you for taking the time to leave a great review on this product. It really helps a lot of our customers.
A wall hanger at best

You get wat u pay for has never been so true, .... it is a nice looking guitar and will do for getting autographs on and put on the wall but that where the positives end...... Does not stay in tune at all, pickups sound like shit and the setup and action even though is pretty high, still manage's to buzz all over the place, couldn't even use it to track a song without endless tuning.... Lesson learnt





Artist Guitars Response
I am so sorry for the inconvenience. We strive to provide quality with our guitar and we have our 100-day free return policy and 3-year warranty should there be a problem with the guitar. I have sent you an email should you wish to return this.
Amazing guitar!

This is my first 7-string guitar that I have properly played and i'm amazed at how comfortable it is to play and how amazing it sounds too. Using it through a NUX MG-300, it sounds expensive without being expensive!





Artist Guitars Response
We are stoked to hear your feedback with the Spiritus7. Thank you so much for your support!
Amazing value

Just received one of these today. Playable right out of the box and getting great tones from it. Just amazing value. Credit to Artist Guitars for bringing quality to low-priced instruments.





Artist Guitars Response
Thank you very much. We are glad that you like the guitar. We're always here if you have any other questions or need help. Cheers!
Solid

I was skeptical a guitar under $300 would be of decent quality, but I was wrong. I bought this not expecting much and got so much more. If you're new to 7 strings, this is a solid starting point. The only thing that lets this guitar down are the stock strings and pickups. I highly recommend replacing the pickups (I opted for an EMG 707 in the neck and EMG 81-7 in the bridge), combined with some 0.11-0.70 strings and it sings. Now, one thing I did not check before I purchased (my fault) is the scale. This is a 25.5" scale 7 string, which means if you plan on playing Erra or Spiritbox riffs in tunings like Drop F#, you're out of luck as the scale means you would require very high guage strings and then need to adjust other parts of the guitar to support the tension. Still, if you're happy playing in Drop B/A tunings, this is a solid guitar. Definitely replace the pickups with active ones and new strings, you've got yourself a guitar that sounds like one 4 times the price then.





Artist Guitars Response
We're sorry to hear that the pickups and strings didn't work out for you but thank you for the detailed product review and even suggestions for other customers. Feel free to reach out if you have any questions or need help with anything. Cheers.