Product Description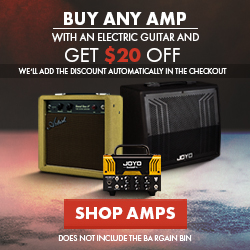 Artist BLACKTR58 Blackburst Semi-Hollow Electric Guitar
This classic style guitar has existed in many forms since it was first released in 1958. Since then it has been coveted by some of the greatest Rock 'n Roll, Blues, and Jazz guitarists that the world has ever known. Legendary names like BB King, Freddie King, John McLaughlin, Larry Carlton, Jorma Kaukonen, Eric Clapton, and Elvin Bishop are among the multitude of players who have loved the diverse tones that this type of instrument offers. Now it's your turn!
The Artist BlackTR58 offers a perfect entry-level guitar for those wishing to begin their journey into the world of blues and Jazz. With the typical set-neck, this guitar is truly a "blues machine". Like the body, the neck is constructed of maple on an eco-friendly tech wood fretboard. This wood is a fine substitute for rosewood which is now considered a highly endangered species and as a result is rarely if ever used in general guitar building these days. The 22 frets show off the Block plastic inlays and when you add to the comfortable "C" shape neck the standard tune-o-Matic bridge and stop-bar tailpiece, you have a guitar that will not only feel great under your fingers but one that will sustain forever.
The BlackTR58 sports chrome-covered Humbuckers with Alnico V magnets which means that you have the option of the warm throaty tones of the neck pickup or the biting clean sounds of the bridge pickup. When you set your toggle switch in between neck and bridge pickup you get that wonderful almost out of phase sound which confirms that this is an extremely versatile guitar that will be very responsive under your fingers. You will be able to put a stamp on all those great blues solos and wail like the greats or you could darken the tone to suit the "cool" of any dingy little jazz club.
The Tech Features
Brand: Artist
Model: BLACKTR58
Scale Length: 243⁄4" / 628 mm
Neck: Maple Set-Neck, Truss Rod 22 Frets Techwood Fretboard with Block plastic Inlays
Fingerboard Radius: 12" / 305 mm
Nut: 43 mm / 111⁄16" ABS Plastic
1st fret Thickness: 21 mm / 13⁄16"
Shape: Modern C
Body: Maple with Basswood Veneer on both Sides
Machine Heads: Die-cast Chrome
Bridge: Chrome Tune-o-Matic style, with 'Stop-Bar' anchor.
Pickups:
Neck: 4 Conductor, Alnico V Bar, D.C. Resistance: 7.2K, 4.2 Ohm, Chrome plated cover
Bridge: 4 Conductor, Alnico V Bar, D.C. Resistance: 8.2K, 5.0 Ohm, Chrome plated cover
Controls: 2 x Volume, 2 x Tone , LP Circuitry
Switch: 3 way
String Gauge: 10-46
Colour: Black
Weight: 3.5 to 4kg / 7 lb and 11.4 oz. to 8 lb and 13 oz approximately
Optional Hardcases and Bags:
Cases: JC450
Bags: HGBAGES335
(16362)
Beautiful looking Guitar

This is my second Artist guitar. First was the Ag in black And now just got the BLACKTR58 Blackburst Hollow Body Electric Guitar. Each guitar I purchase from you guys are getting better and better. Nice and straight fretboard, paint is beautiful and sounds so great. Thanks guys. I love it.. Geoff...
A really nice guitar, but...

Got sent a dud originally, had super loose intonation adjustment screws and the switch was broken, but Artist were so good about sending me a replacement. Absolutely top notch customer service! This guitar looks great and feels amazing in the hands, the neck shape is nice and chunky which is perfect for me. It's a really comfortable weight, though lighter than I expected. It sounds great too, the pups have a nice warm creamy tone but have a good amount of bite with the volume up. Where it kinda falters is the fretboard. The frets really need some more attention, the ends are fairly sharp and could do with a good polish. That techwood board though... It's, to be frank, not good. It looks alright, but it feels like plastic or something. Just feels kinda of awful after playing guitars with actual rosewood. All in all, it's a good guitar but with some work it could be a great guitar. IMHO, get the Cherry58 instead because of the better fretboard material, plus maple veneer instead of basswood.





Artist Guitars Response
We're sorry to hear about the issues you had with your original and replacement guitar but we appreciate your feedback nonetheless. Please respond to the email we sent you so we can further assist you on this.
Guitar

Just arrive.. very nice looking guitar.. play well from the box.. minor set up only needed.. bought a lot of gear from A/G's, never fail!.. Thanks!..





Artist Guitars Response
Thank you for the feedback and all the support
Beautiful smooth jazzy sounds

As a first time player, I was incredibly apprehensive about what guitar would suit me. I spent so long trawling the internet looking at everything from the Epiphone Les Paul to Fender's Squier Strat. I knew I wanted something great but price-wise, I wasn't looking to drop $900+ on this new pursuit. Thankfully, I was introduced to Artist Guitars which made this whole process a million times easier! Having a background playing violin, I feel like I have a pretty solid sense of what a great instrument can sound like. I bought the JOYO JTA05 with this guitar and I couldn't be happier. The sound is so smooth and rich. Combined with this speaker, it's fantastic bang for buck. I can tell I'll be playing this instrument for a long long time. I'm not sure that I would have felt the same way if I had purchased a cheaper alternative (squier strat). I'd highly recommend pairing this guitar with the Joyo Amp if you're in a position like me where you want great sound but aren't ready to plunge into the higher $100s/1k mark.
Warm sounding guitar plays like butter.

I love this, my 10th guitar from Artist. As I have come to expect, the quality is fantastic. The finish is beautiful and the sound is just great, particularly with a little gravel put into the mix. The Alnico V pups sound nice and fat particularly on the neck position, warm and dark like a velvet glove. A great guitar for playing jazz or slow blues, subtle expression and wide dynamic range makes it weep like a baby or growl like beast. Fantastic guitar for anyone wanting high quality without the big name price. Thanks again Artist.